7/12/12 – We have been working with the casting outfit to finalize our design to ensure correct molds. It is a fun but laborious process.
8/16/12 – We decided to not make the CT-18 plane. We will refund all of the deposits.    Kidding folks! Just seeing if anyone is paying attention! These should be out by the end of the year. The drafts for the molds and shrinkage rates are being finalized then off we go. 
8/30/12 – So a few people do read this! Yay! I did get word today that the metal used in the CT-18 is prohibited in the state of Pennsylvania. Looks like our customers there will have to settle for a pot-metal version. The foundry is gearing up though. Can't wait for those first articles. I'll take pictures too!
9/13/12 – Handle Mold is done.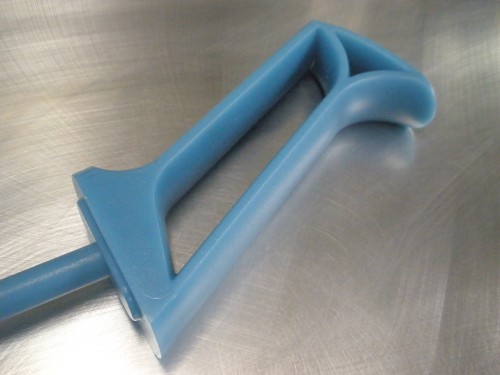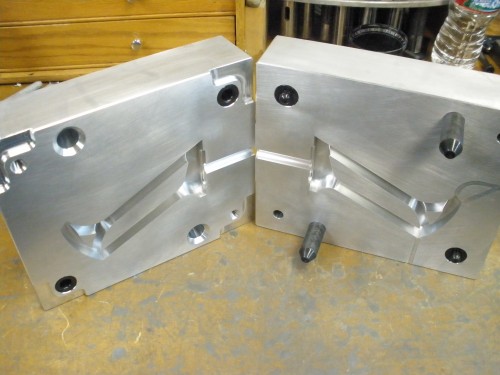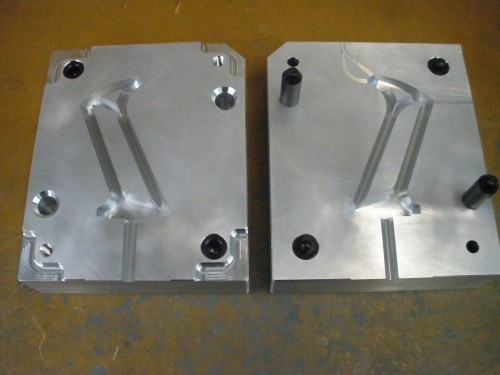 9/20/12 – The foundry should have been pouring samples this week, no word back from them yet. Oh, the blue part in the image above is the wax that is made to make the metal part. The wax model is used to create the metal part. Hopefully we'll have images of that next week.
9/27/12 – They poured the handle today. Unfortunately, I have not seen it yet. Lever Cap is next.
10/4/12 – Well, they are reworking the handle form a bit. Some air pockets were indeed formed in a few spots. So, modifications are happening and a re-try is next.
10/10/12 – They should have poured again today, I will find out more next week.
10/18/12 – The mold for the lever is done. I have a few pictures of it that I'll post next week. There is not another lever like this on any other plane, that's for certain.
11/8/12 – Finally, the foundry poured stainless steel today so they were able to pour real samples for us. Can wait to get my hands on them!
11/21/12 – Gorgeous stuff. There is not a seam line visible anywhere on these parts. Unbelievable.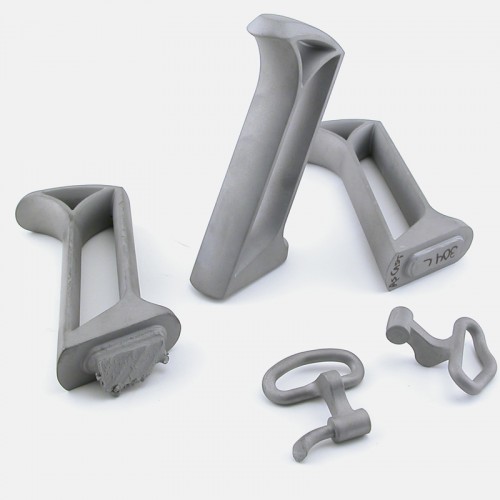 These are 304 stainless steel. No polish yet. Yum! I say!
12/6/12 – The Body mold is being worked on, I am working on a finishing system for the Handle. We have some really cool plans for it. The rest of the parts are being massaged to fit the cast parts. I did a 3d print out of the whole plane this week. The Handle is really comfortable on it.
12/13/12 – Body mold is in process. Not sure on eta at this time. The small time foundries are pretty lo-fi when it comes to business operations. Can't complain with the quality though!
01/03/13 – The foundry finalized the specs on the handle and lever. The body is being tested and re-worked. Looking good so far though.
01/17/13 – Finish samples are starting on the rear tote. There are quite a few processes that need to occur on the rear tote. Bead blasting, polishing, masking, powdercoating, sanding. We need to get this dialed in first. Body casting is in the works still.
02/7/13 – The Rear tote is all polished up on the sample, the body casting is now coming along. The mold maker finally has time on his hands. Painting the inside of the handle is next week.

02/21/13 – The mold for the body should be wrapping up next week. Full production pour of everything soon after that.
03/14/13 – Re-working the body mold. Handle painting still in process.
03/21/13 – Walnut boxes for these are starting up shortly. Body waxes were poured but are being adjusted. Once production starts with the casting, I will have more definitive dates. This is killing me as much as it you all! Yikes. Here is a picture of the multi-piece mold.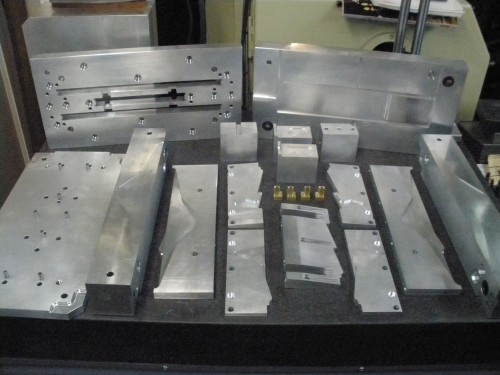 03/28/13 – Got the rear tote back from the powdercoater. The internal surfaces are painted, the exterior and sides are raw stainless steel; either grained or polished. It is sweet. I can't say that this will be their favorite project, since the masking is quite the drag, but at least it is in the name of design! No definitive timeline for the castings yet, but they are rock solid now. Ready to roll. I should hear tomorrow or Monday.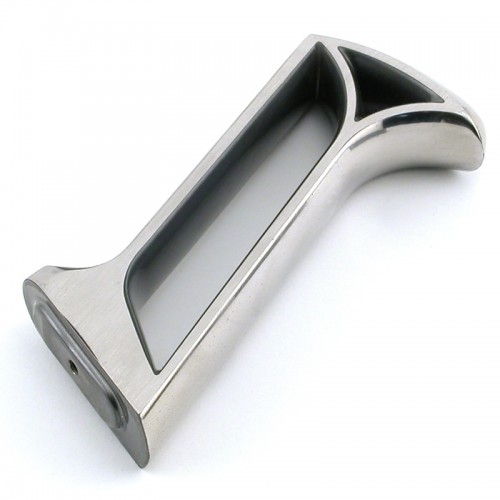 04/4/13 – The foundry is working on the productions schedule for the body. I am anxiously waiting for the sample to arrive as well..

04/25/13 – They have been doing test pours on the body all week. They need to set up a large knife gate along the whole plane to allow the metal to get in everywhere. The standard gates have not been working. I have been pushing and pushing to make this happen faster, but it is like pushing a cement truck it seems.

05/16/13 – We went out to visit the foundry this week to get a feel for how it is going. The body has been causing problems on a couple of fronts. It is a slooooooow process to work through the kinks. We are almost through it though. I built some wood forms to help the waxes stay straight as they cool. And they are testing one more way to gate it so that the metal flows.

06/06/13 – Ok, finally. The foundry is rolling now. Parts will be complete in 8-12 weeks. THEN, secondary machining.

06/20/13 – The foundry built a new hydraulic press this week so that they can straighten and tweak the castings as they come off the line. Apparently, the foundry considers 304 stainless as "soft and malleable." I guess it is all a matter of perspective.

07/11/13 – I should have the first batch of castings next week. Looking forward to seeing them!

07/18/13 – A sampling of the bodies are finished with heat treat and will be shipping over to me tomorrow. Meanwhile, I did find another casting outfit in the midwest who we have used in the past (meaning 20 years ago..). I may need to hit them next time around. This is pretty absurd to wait this long.

08/01/13 – Some of the parts are finally out of casting. Next stop is the machine shop. I'll have some pictures next week. We may have a sample in the museum show in a few weeks, but definitely not a completed tool. That was our goal and the foundry did not meet the deadline.

08/08/13 – Here are pictures of the Body casting. Lots of metal to remove, but all is on the outside surfaces. Very little on the inside gets touched.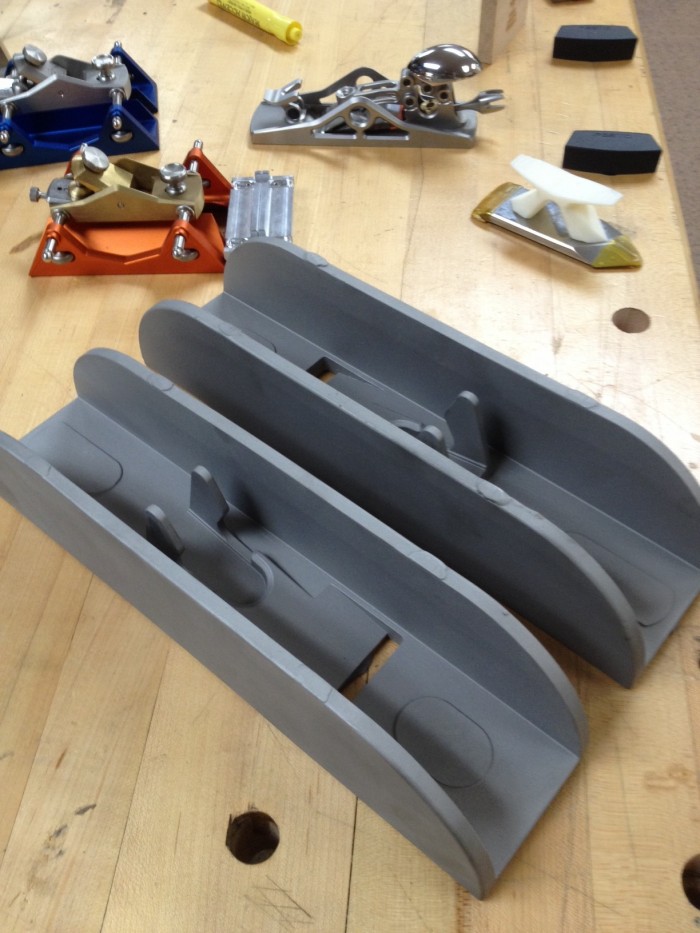 08/22/13 – Foundry is still at it. That's it really.

09/05/13 – Foundry is still at it. That's it really.

09/19/13 – Delivery of the cast Rear Totes and Levers should be next week. Bodies are coming off the line too.

10/03/13 – Hey! Look at this! Totes and Toggles.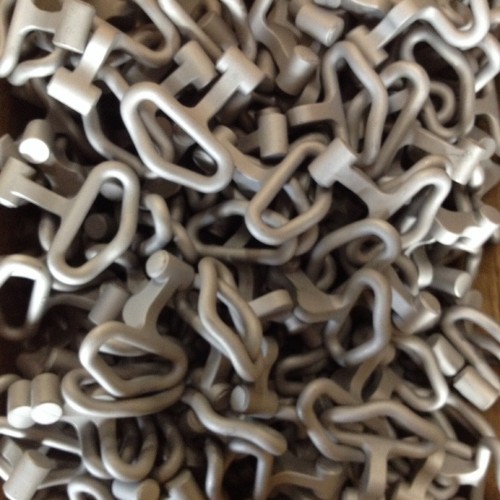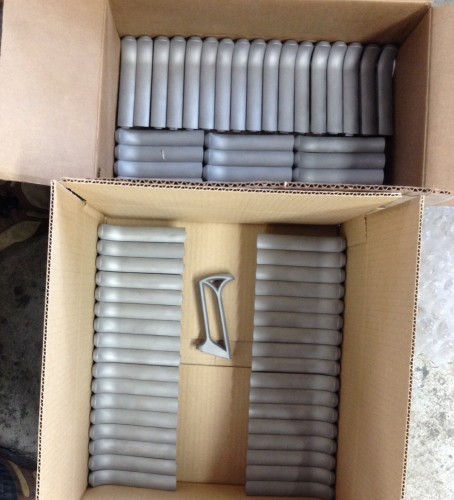 10/03/13 – Body castings are finally cranking along for bore. They had a distortion problem and all is good now.

10/24/13 – The body castings are at the heat treater and we should have some in hand next week.

11/7/13 – Still have not seen the shipment of castings. Today I was told that it will be on Tuesday. Not sure about the scheduling of the remainder yet but should get a good idea after parts are in hand.

11/14/13 – I picked up 400 lbs of castings today. Nice and clean. Take a look at them pouring something else today too. Not exactly sure what it was, but fun to see stainless steel in liquid form. Castings head off to the machine shop now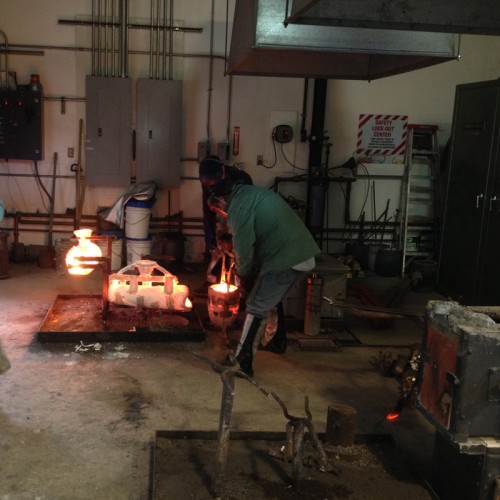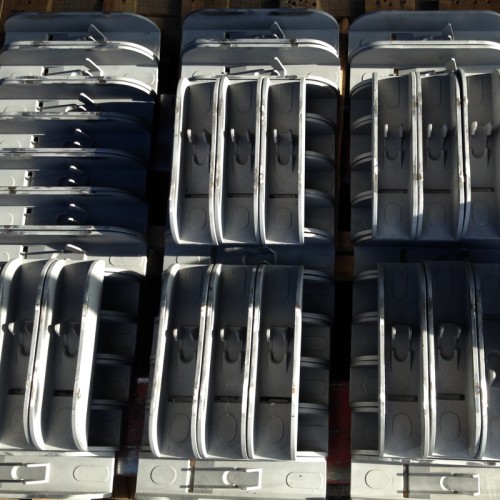 6/24/14 – We are hoping to start shipping these throughout the month of July. Please note that we will only be going down the waitlist for these after all pre-orders have shipped.
7/29/14 – 95% of the orders on record have been filled. This tool came out absolutely fantastic. It was an ordeal as you all know, but the results are stunning. If you would like one of these get on our wait list because as soon as we fill the wait list orders, if there are any remaining, the price will bump up to $2700. Everybody who got one got a great deal or made a great investment.
9/10/14 – Still processing all remaining pre-orders. We appreciate everyone's patience with this gorgeous tool. We're hoping to go through the waitlist by the end of this month.
11/3/14 – A few remaining are available here to order, and then they will be gone forever!