With the help of several DJ-1 owners, most notably Roger Savatteri and Rutager West, Universal Jaws for the DJ-1 Drilling Jig are now a reality. Full details and pre-order information will be posted on our website by weeks end.

This is an exciting addition to the DJ-1 and allows for easy drilling of round, square and other shapes at any angle up to 45 degrees.  Here's how it works;

Say you want to drill holes at 17 degrees in square or plank stock.  Using whatever protractor device you own, set a T-bevel to 17 degrees (or 73 degrees depending on how your protractor reads).  Set one of the orange jaws to this setting (using the purple jaw edge as a reference) and lock the jaw in place.  To get the other jaw precisely aligned to the first, simply clamp a dowel between the "V" grooves and the second jaw automatically is aligned and can be tightened. This is FAST and dead-on.

Our website will explain the full capabilities but I will share that we are really coming close to eliminating the need for a drill press in most shops. No, the DJ-1 will not hold single wing circle cutters ("knuckle busters" to most) but it will out perform a drill press in accuracy (not much beats the accuracy of bushed twist drill) and in speed.

If you own a DJ-1 these jaws dramatically increase functionality. They also serve as a nice foundation for whatever shop-made jaws you might require. These will be made on a pre-order basis and should be delivered by July. As mentioned earlier, our website will be updated later this week.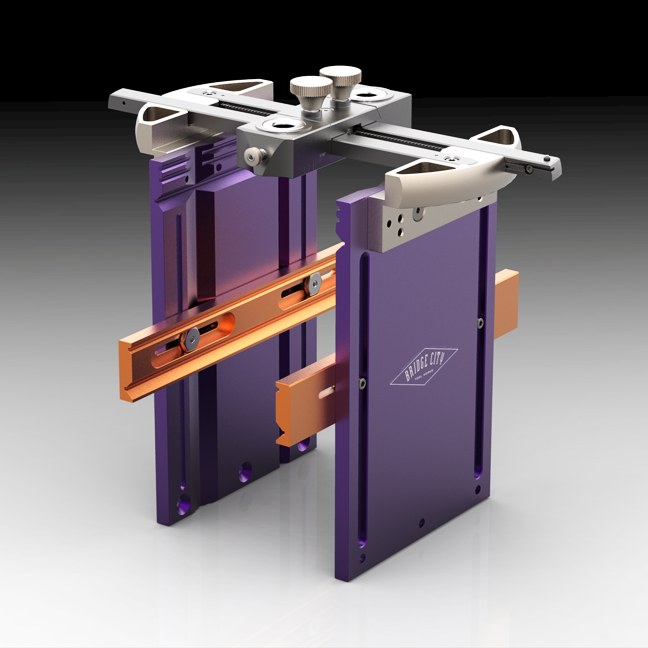 Speaking of the DJ-1 Drilling Jig, we just completed a run and we have a few extras (less than 20 I am told)  and they should be available on our website today or tomorrow. The next DJ-1 run will be either the last quarter of 2010 or the first quarter of 2011. FYI.

Now for Something Completely Different…

It looks like we will ship Commemorative Tool #16 next week (the Black Chrome Palm Brace). I think we shot ourselves in the foot making this a Commemorative Tool because not only is it completely sold out, we have a lengthy wait list for the overruns. I might rethink how we can remedy this down the road.

It's a good thing we are shipping the 2008 Commemorative Tool soon because I just finished the design work on Commemorative Tool #17 for 2009 (yes, I am behind).  All I can spill at this point is the CT-17 is going to be tough to top.  You will get to be the judge sometime next week when this tool becomes available for pre-order.

The KerfMaker Inventory Update Report…

Did you know there are approximately 700,000 table saws in America?

Although I go to great lengths to keep our inventory to an absolute minimum, sometime in the next 4-5 days we will have a substantial inventory of KM-1's available. (FYI: We made less than 700,000 units.)

If you are one of those 700,000 owners and do not have a KM-1, something is wrong with you. Seriously. OK, just kidding, but this tool will pay for itself many times over. Check our website later this week.

Speaking of Kerfmaker's, we are in the process of making a movie to demonstrate the yet to be named "Tenonator". This tool is awesome–gauge a mortise, cut the the tenon to fit PERFECTLY without once consulting with a ruler/caliper/tape measure/GPS device/or a pedometer.  How cool is that?

Lastly…
We mentioned a couple of weeks ago our intent to make 50 Stainless Steel Shoulder Planes. We are now accepting pre-orders for the remaining units (those that bought the larger version last year had first crack at this year's run). I believe we have around 17 units left until we sell out. We know this tool is not for everybody, but it is awesome.

We will announce pre-orders for the skeletonized HP-7 soon.

Lastly Again…
I will post the syllabus for my Design/Creativity Workshop before weeks end for those of you on the fence or for those who may be able to get reimbursed as a continuing education expense.

I'm tired.

–John