Drivel Starved Nation!
When you visit our Bridge City office you immediately see a panorama of all the tools we have made over the last 35 years.
Welcome to the Bridge City "Tool Zoo" the sign reads—if only we had one.
When guests arrive, Consuelo presses a secret button under her desk and a live, 220-volt electrode jabs my right thigh indicating that my Zoo Keeper presence is desired. (My concentration skills demand intense diversionary measures….)
When our guests see me crawl out of my man-cave office, they almost universally say:
"WHOA! Do you have a succession plan?"
I used to think it was just the 220-volt zap-to-my-lap that contorted my face, but now I think it is my cadaver-like appearance that prompts this response.
I'm asked the "succession question" frequently and the answer has always been no. My adult kids have their own lives—my daughter is a stay-at-home Mom of two—my son is an expat living in Mexico City, compliments of his employer. I just planned on dying here, probably doing something fun and interesting, like changing the musty filter on the shop vac. That all changed in three consecutive days this past January …
DAY ONE
On Monday, January 23rd I arrived at the office with a ridiculously full schedule—my annual work retreat commenced on Friday.
Around 9:30 AM our production coordinator delivered his two-week notice. It's not something I wanted to learn… in four days I was leaving the office for a month. The notice was certainly bad timing, but not unexpected. (When the unemployment rate in Portland gets below five percent, job hopping reaches its peak.) I told myself that finding a replacement would commence when I returned on March 5th.
DAY TWO
The next day, Consuelo, who you all know as my boss, informed me that she is pregnant with baby number 84. I congratulated her (again) and knew immediately she would not be coming back. We have been working together for seven years so this replacement could be a bit problematic, (it's hard to find employees who agree to be perpetually pregnant) but I have been through key personnel transitions several times before. Change is always good.
However, that evening I realized that after putting myself through college, six years of high school teaching, six years of designing and making furniture, and thirty-five years of running Bridge City, I did not have the energy, or the desire, to replace two key people and maintain my manic pace of designing products for the insatiable appetites of our incredibly wonderful customers … like YOU! I went to bed thinking that it might be time for me to retire and enjoy my two grandsons with a third grandchild on the way this September.
DAY THREE
Wednesday morning, Consuelo confirmed that she was going to become a stay-at-home mom. I candidly shared that maybe "my time was up" . Before our conversation was over, we received a call from an interior designer in the Midwest who was designing a new woodshop in a converted barn for one of her best clients.
This designer had given her customer "Quality is Contagious" for a Christmas gift, and his infatuation with our work here was… intense. She had marching orders to acquire "one of everything" in our history and was asking for our help. As you likely know, this is impossible to do in a single purchase. None of my three complete sets of tools are for sale. Consuelo informed her they would need to be purchased on the open market.
After the call, Consuelo stated that maybe this "was meant to be". We then discussed the merits of selling this gentleman the "Tool Zoo".
And then it became clearly obvious what I needed to do. After an incredible thirty-five years, I made the decision to wind this place down. I was struck by the irony of knowing it was time but didn't know when—or how.
The next day, we sold all the tools in the Tool Zoo to one of the most fascinating guys I have ever met.
"Decisions are easy when values are clear." -Unknown
Briefly, I founded Bridge City Tool Works in 1983. By 1985 I was attending 37 trade shows a year (where I likely met some of you). I would leave on Thursday mornings and return on Sunday evenings and run Bridge City Monday through Wednesday during the day. My evenings were spent doing spreadsheet work and catalog analysis. This went on for 15 straight years—no "Dad of the Year" awards for me.
When I am asked to speak about the history of Bridge City, my talk is titled; "Too Stupid to Quit". All I blab about are the epic mistakes I made along the way. Isn't this the hallmark of a brilliant business mind? And get this, people come up to me afterwards inspired! That is pure nonsense. The truth is, there is nothing I enjoy about running a business. For me, BCTW has always been a vehicle to passionately express new ideas and concepts—that nobody wants to buy—using tools as a canvas. Unfortunately, I had to run this business to live my dream.
While on my recent work retreat, an incredible peace was coursing through my existence. I realized I needed to connect the loose ends, so I made the decision to contact a business broker friend. I also reached out to two DSN members who have a wealth of business experience. Neil Clemmons and Fred Hayden were terrific sounding boards and great listeners, I am very grateful for their wisdom and advice. I liked that it was free too!
I also reached out to my good friend, Jack Xu, at Harvey Industries (we have an international licensing agreement with Harvey, they also make the Chopstick Master and the amazing Gyro Air Dust Collector) to inform him that I was to either going to sell—or shut down—Bridge City so I could spend the rest of my life enjoying my grandchildren. Maybe do some weeding and reading. Exercise wouldn't hurt either…
Jack asked me to hold off on the business broker for a couple of days. I am pleased to share that after months of discussion, we recently struck a deal to sell BCTW lock, stock, and barrel to Harvey Industries. I did it because you would think I was an idiot if I turned down billions of dollars for this place…. FYI, I have already contacted a real estate agent to start price negotiations for Greenland. Stay tuned!
Here is a pic of the two of us celebrating the success of the Chopstick Master (I'm the one with the crooked glasses…);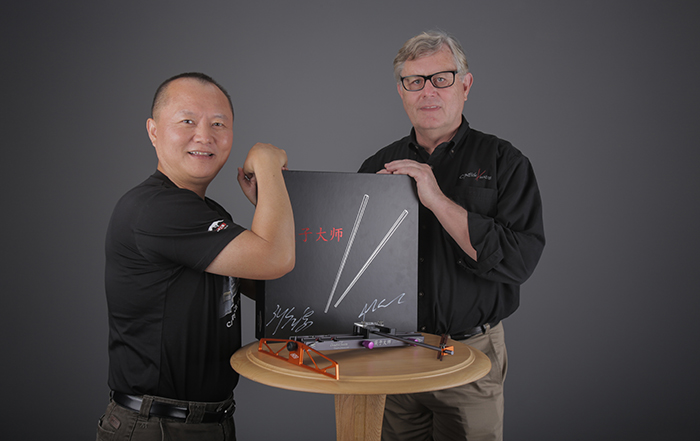 (Some of you have already met Jack, he attended the opening of my retrospective in 2013 and was at the house for the book signing party.)
Jack, a licensed Mechanical Engineer, is also not "business" normal. He too, cares more about quality than money. And you know what is weird? You likely already have tools in your shop made by Harvey Industries! They have been in the woodworking OEM business for decades. Was I surprised Jack wanted to carry on with Bridge City Tool Works? Oh yes, and I now believe it is the very best thing that could have ever happened for everybody, particularly the BCTW faithful.
These turns of events are further support of my plan to never have a plan.
When I factor in the emails and correspondence with international customers of Harvey who have been buying Harvey made Bridge City tools, it makes me believe that they will successfully continue to travel the path of quality and outstanding customer service we have all enjoyed over the past 35 years.
So, what does this mean for the Drivel Starved Nation, you ask? Maybe not much—as you know, we have been going out of business 35 years in a row, so happily, that streak will continue!
Here is what I know now;
Consuelo plans on working through July. At that time, our office will relocate to the existing Harvey location in Los Angeles. All her babies are future customers which is good. I'll eventually end up in Greenland in my private mansion, with a PGA certified 18-hole indoor golf course …but until then, Portland is home.
It is our goal to fulfill all our pre-orders by July 31, and as of this writing, we are on schedule.
Our shop will stay open until Jan 1, 2019 because… well, we have never been very good at schedules.
Lots of old stuff will be going on sale and new stuff will be less expensive!
The website will remain almost identical. Our toll-free number will be the same. And I will still give you behind the scenes and product updates via this Totally Awesome and Worthless Blog!
 No more payrolls for the parolee!
As for me? For the next two years I will continue to design fun stuff for you via Harvey, in addition to resurrecting those tools from the BCTW archives that make economic sense. Most important, I will head the quality control department for Harvey so the Bridge City legacy of quality continues. And, I plan on increasing my Totally Awesome and Worthless Blog output (which will not take much effort …). And you can still reach me through my busy parole officer or better yet: john@bridgecitytools.com.
The plan is to change the business model to one where items are in-stock as opposed to pre-ordering with the exception of limited-edition items. If you are a Jointmaker Pro owner, sleep tight tonight, your replacement blades will simply ship from Los Angeles beginning in August. Our repair department has already closed, so those of you who want to sell your old BCTW tools on eBay will have to clean them yourselves. We will still repair items that are under our 90-day warranty. I am working on a way to catalog all our spare replacement components so stay tuned.
Drivel Starved Nation, you heard it here first on this Totally Awesome and Worthless Blog. Without you, changing tool history would not have been possible—I cannot thank you enough.
I know you may have lots of questions, so please ask! I want to close by stating that I am thrilled that in Chapter 2, the legacy of Bridge City Tool Works will continue with Harvey Industries, Ltd. And I know I could not have found a better friend than in Jack Xu. For those of you who joined us on our Epic China Field Trip last fall, you know this is not fake news.
Heck, maybe Bridge City Tool Works will become a real company after all.
-John