Before I start my picture avalanche, I have a couple of items to share;
1) The new HP-9v2 Dual Angle Block Plane and the new HP-12 Dual Angle Smoother will open for pre-orders in the USA some time next week.
2) For those that missed the awesome field trip to China we organized a couple of years ago, we are doing another in September of 2020. There will be a limit of 40 and I will post full details in the next week. We will visit Shanghai, Nanjing (home of the new Bridge City Center and the Hung Mu museum) and last stop will be Beijing.
After spending 3 weeks in Nanjing training the new team how to assemble and flatten the new HP-9v2 and the HP-12 Dual Angle Smoother, it feels great to be home.
Honestly, I wasn't really that excited for this trip because I wasn't sure how long it would take for these aspiring new tool makers to "get it". This turned out to be one of my dumbest fears. In a matter of less than one week, we had 8 people assemble and flatten both planes. The flattening was my biggest concern, but they all exceeded our 0.05mm (0.002″) flatness requirement. In fact, every single tool maker produced planes that were flatter than 0.02mm which is 20 microns. Incredible.
Although I am no longer on the revenue side of BCTW, I don't know the prices at the moment. I can share however that the quality of these tools is as good, or BETTER than we are known for and that gives me great peace of mind.
NSFW WARNING!
I must warn you that the following illustrated story regarding the new Bridge City Center in Nanjing contains several pictures of me. So this is officially a NSFW post. Sorry.
Here is a group shot of the plane makers and their planes (the silver haired dinosaur in back is me, the gentleman on my left is Jack Xu, owner of Harvey Industries);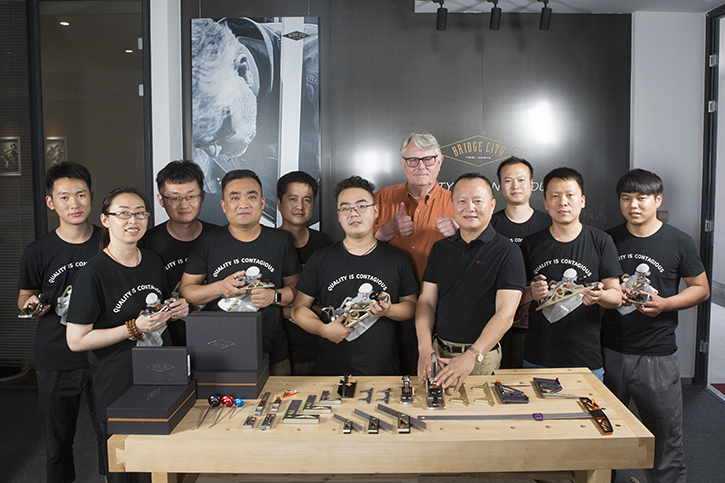 My trip began with a dedication ceremony of the new Bridge City Center. Here we are preparing to cut the ribbon;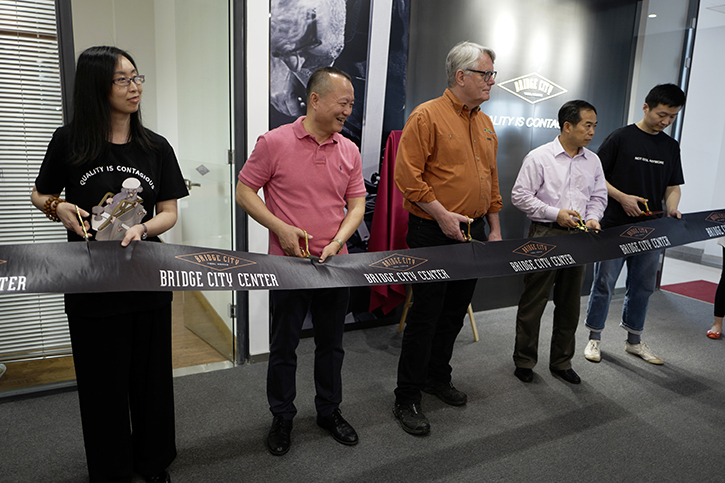 After the ribbon was cut, there was a large "boom" and the center filled with colorful anti-missile chaff;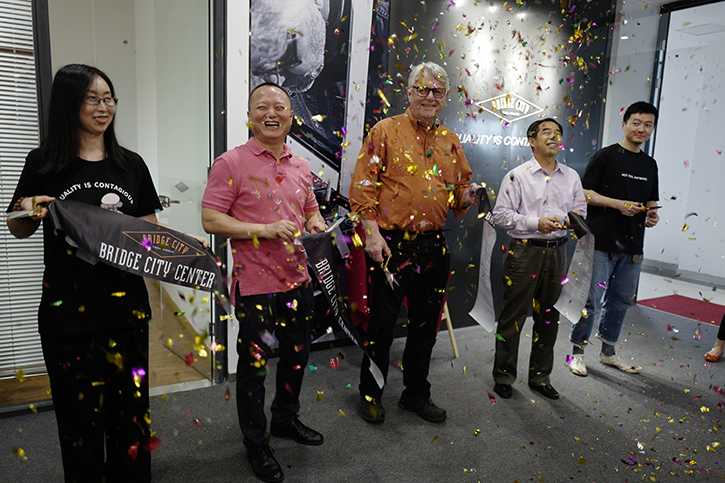 The new Bride City Center is designed to act as a showroom/museum and features a large glass wall that allows visitors and distributors to view the tool makers at work: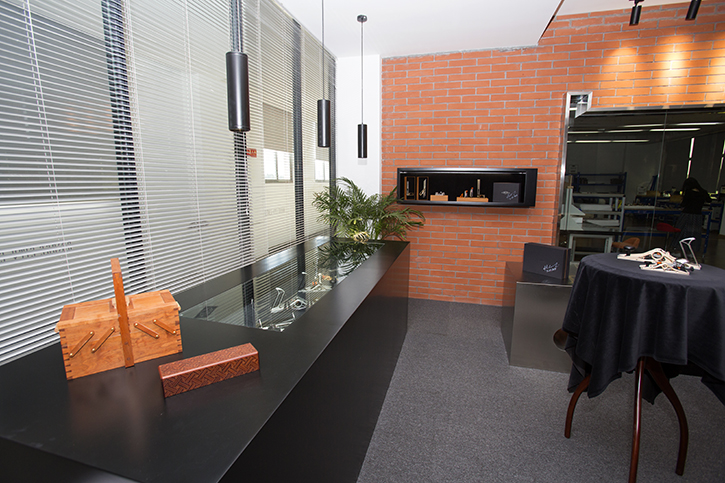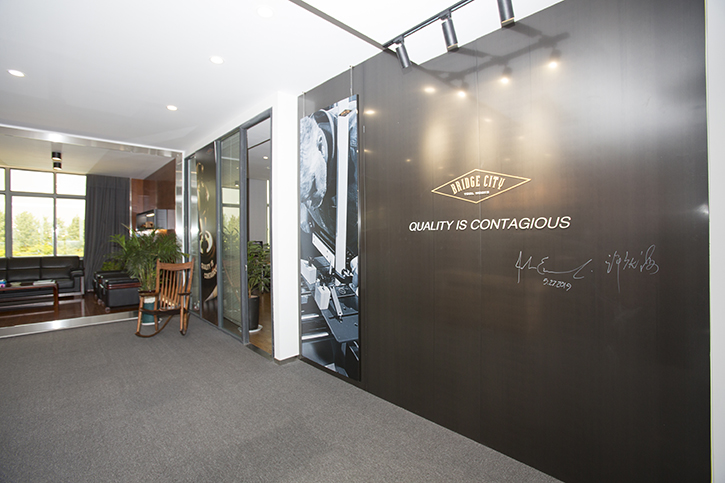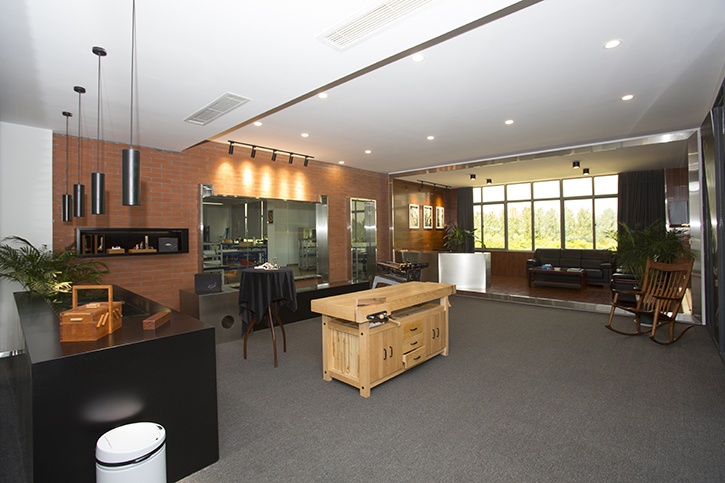 TRIVIA: The entire Harvey manufacturing capability covers approximately 45,000 square meters. For those of you who still hate the metric system, that is over 11 acres. It is an impressive facility located in two cities.
In the image below, I am explaining to Jack Xu (pronounce "Shoe") how in America, all roads and highways are hand flattened with a block plane. From the look on his face I can tell he doesn't believe me. Shame on him!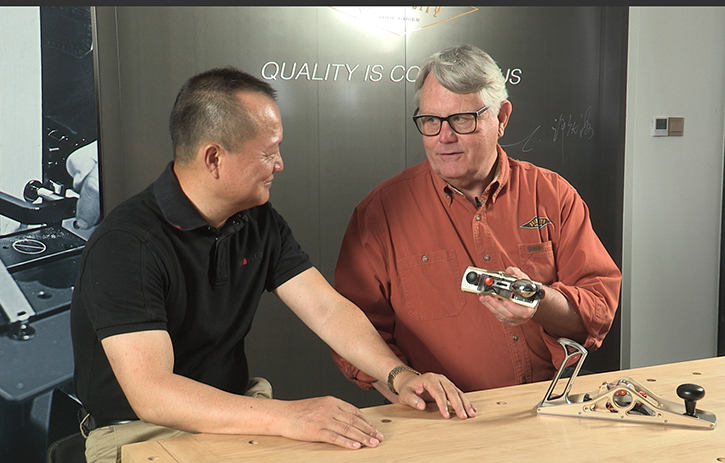 Teaching and learning should be fun. The biggest obstacle of the trip was informing all that mistakes are going to happen and they are an important step in the learning process. Here I am assembling a plane and attempting to make it a fun learning experiencing with my professional grade (and totally free!) humor…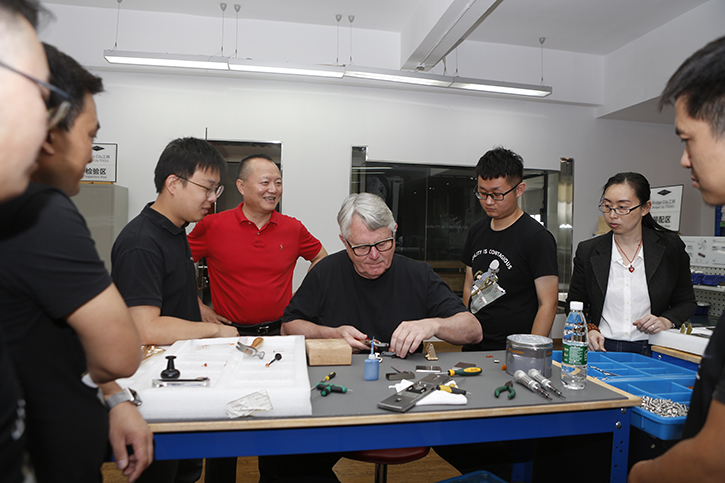 After planes are flattened they have to go through the inspection gauntlet. The lady in charge of inspections would make General George Patton crap his pants, she is brutally good!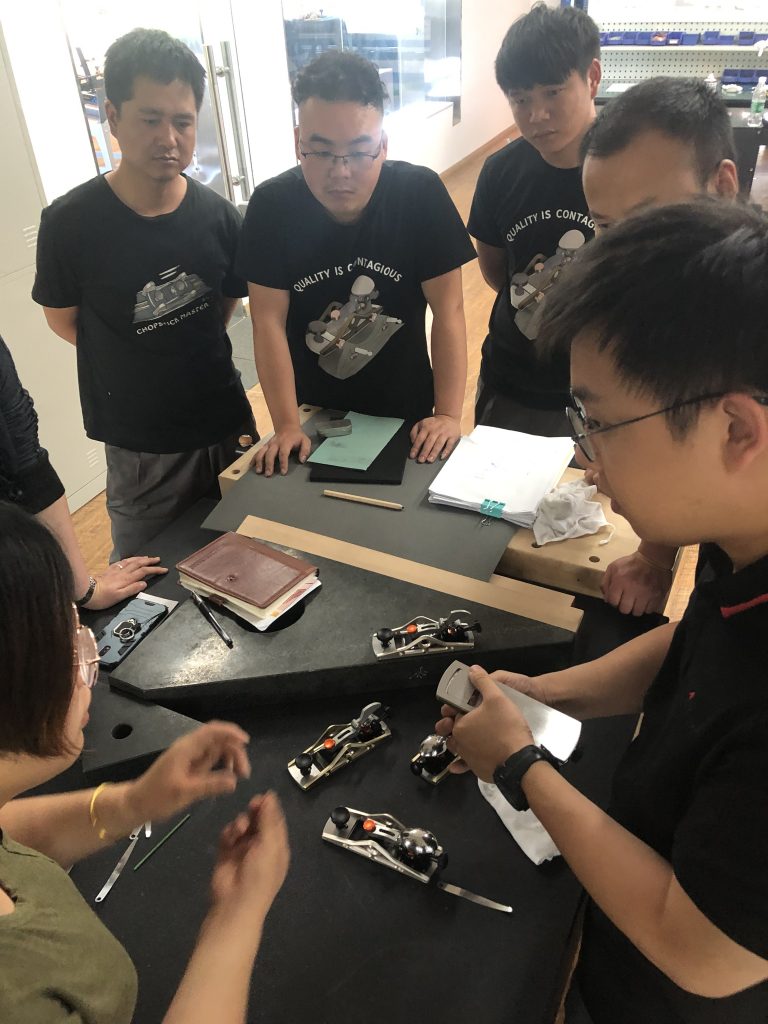 Jack Xu is not a woodworker, but he did say to me that this is the first tool he wants to buy. How cool is that?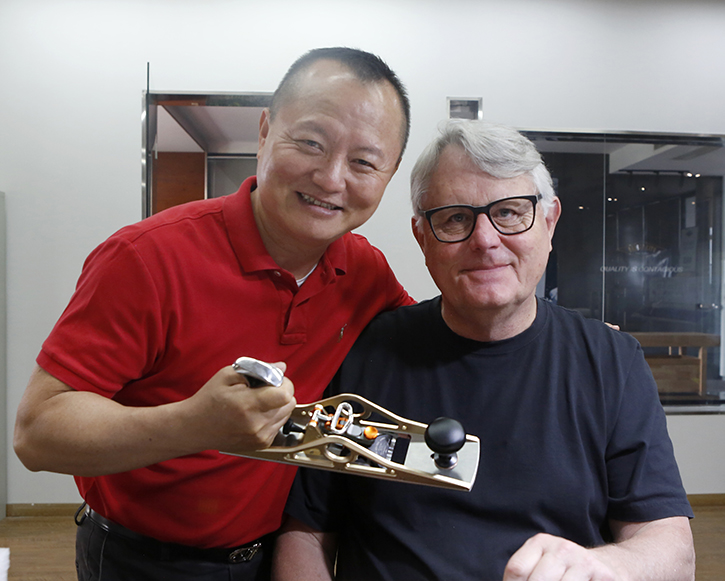 I required every single tool maker, and the admin staff, to learn how to plane by hand. Here Jack is flattening a short piece of Chinese walnut (looks, and works just like our walnut)…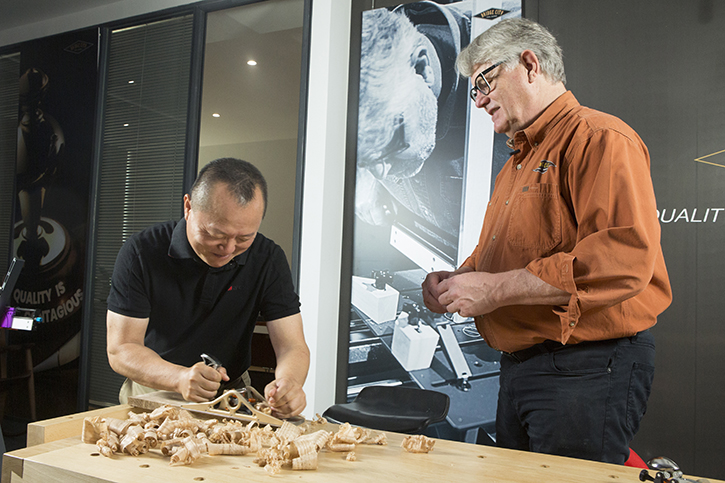 The chief engineer who oversees all of the BCTW manufacturing is Connie. Here we are celebrating her very first plane shaving. She was so excited, and I was too. This enthusiasm is truly contagious.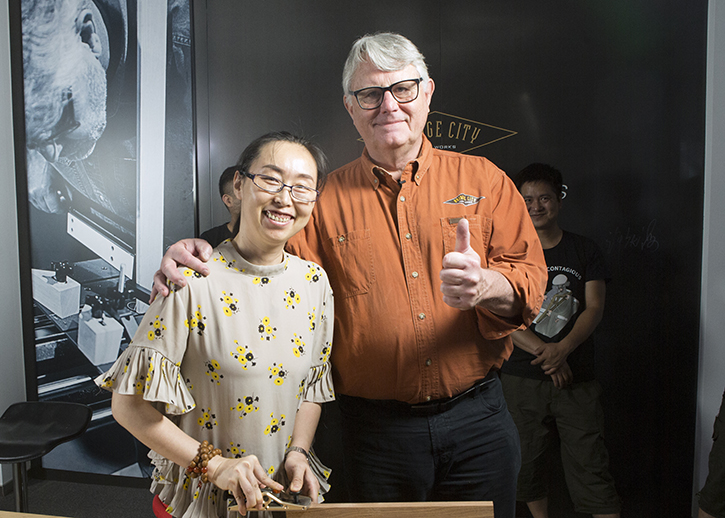 While I was there we made several instructional videos. The film and media crew was really fun to be around;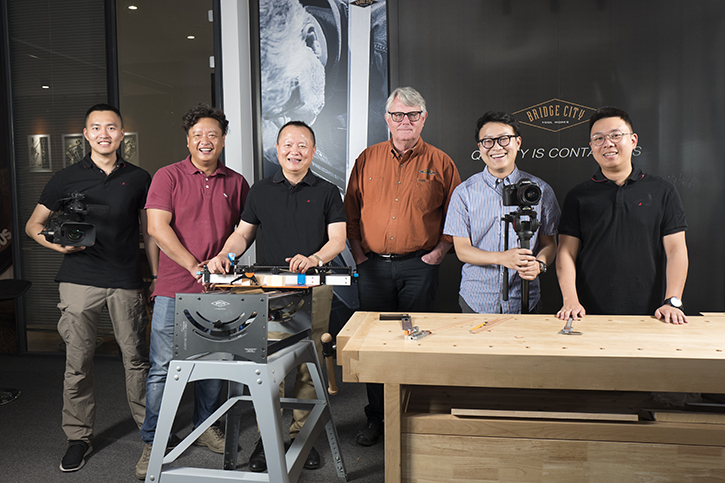 This part is crazy. The Grand Opening of the Bridge City Center was covered by a television crew. I was told the night it aired it was viewed by 50-60 million people in China.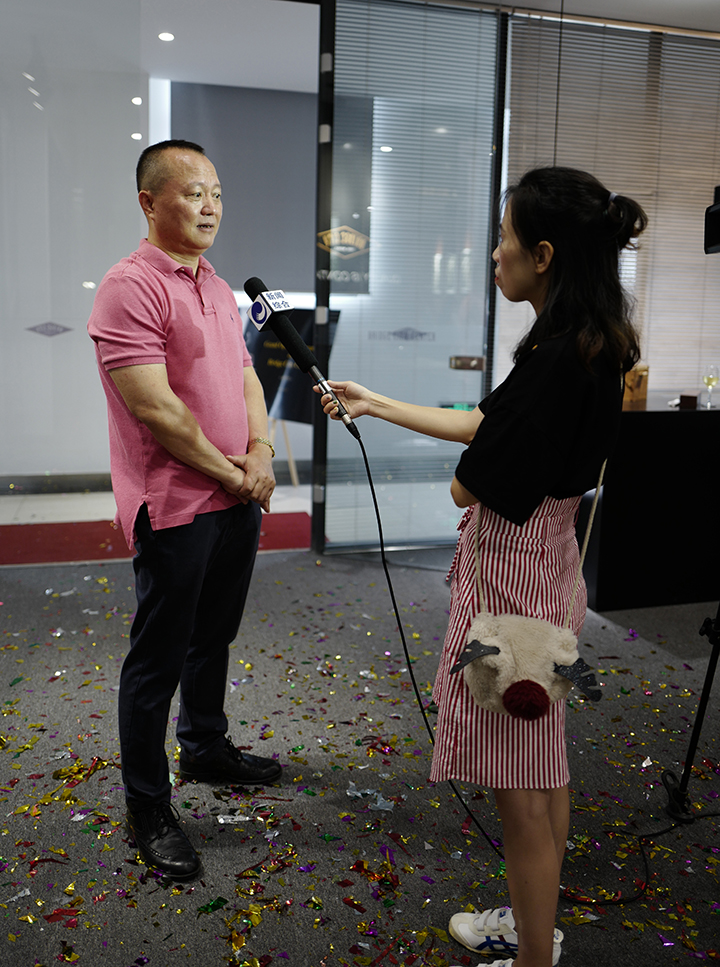 One of my teaching goals included how to use the depth skids; here are two fresh "off the line" planes set-up to thickness plane.. The strips you see are all within 30 microns of each other. That is insanely cool;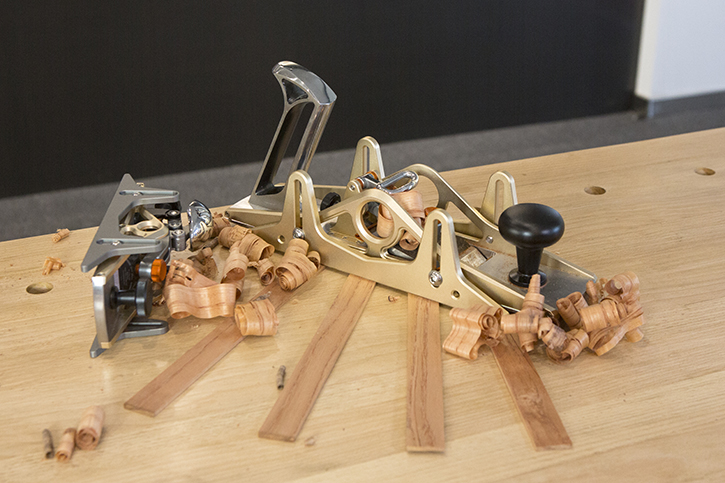 The ultimate proof that this trip was fruitful is in… well the fruit. I guarantee that each and every plane produced will look better than what you see in this rendering. How cool is that?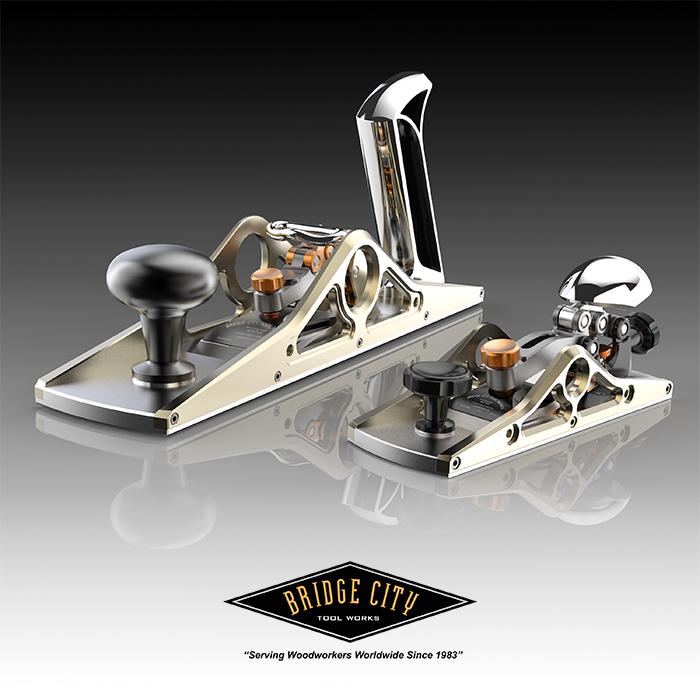 Thanks for taking the time to fall asleep during this slide show!
-John