Over the past eleven months we have been working on what may be the most important new tool in our 25 year history. The Jointmaker Pro is a new and safe way of working wood that yields terrific results (unbelievable in some cases), without power or dust collection and is as quiet as sanding by hand.

Last month we released a short video that showed a sampling of this tool's capabilities. That video has been seen the world around and is the subject of more internet discussions than any woodworking tool that I can remember.

We don't participate in woodworking forums, so we never respond to criticism or praise. That changed last month when Michael Berg (one of our designers) informed me of a civil woodworking forum that was also intelligent and fun. Simultaneously, I received an email from Matthew Schenker, (who is responsible for this forum) inviting me to participate in a lively discussion regarding the Jointmaker Pro and to answer the many questions already posed by participants.

The Festools Owners Group (FOG) is an avid and highly passionate collection of woodworkers who simply believe in quality tools. They too are vilified by the Woodworking Taliban, so I decided to briefly join their forum to invite one of their members to Portland for an unfettered couple of days with one of our Jointmaker Pro prototypes.

And that is how we met Roger Savatteri.

Roger is a full time woodworker/sculptor whose work is stunning. Unlike many woodworkers, he designs first and figures out how to make his designs later–this is how it always should be.

You can read Roger's detailed review of the Jointmaker Pro here. In order to see his detailed photographs you must join the FOG forum–I think it is a decision you will not regret, and it is free.

(I particularly enjoyed the section on how to trash a blade..)

There are also a couple of interesting shots of our ball-bearing model of the Jointmaker Pro (since rejected because of price) that you will see only in his review. Most importantly, if you think the Jointmaker Pro has a future in your shop, this is likely the most in-depth review available.

We are planning on taking orders on our site within the next 10 days. If you would like to be informed of the introductory promotion, go here and fill out the info at the bottom of the page–we will then be able to email you when the introductory period begins.

Below are a couple of pics from Roger's visit in early June.

-John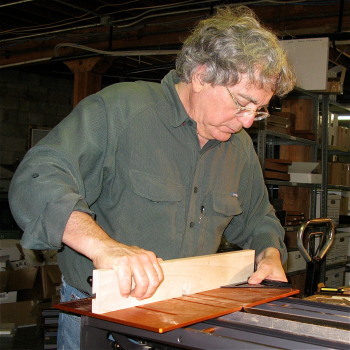 Roger setting the Jointmaker Pro fence to 90 degrees.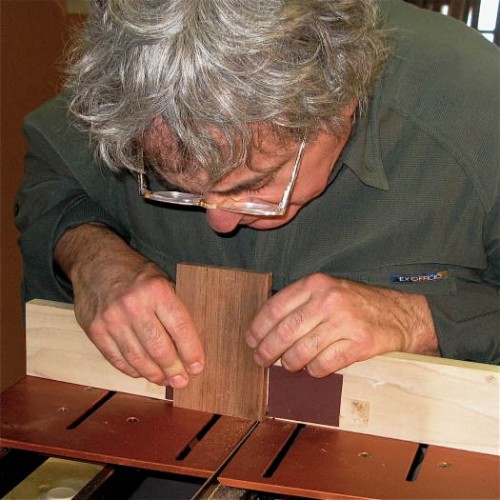 Here Roger cuts his first single pass dovetails.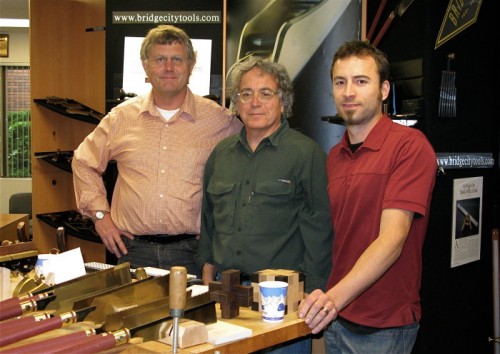 Our moment for posterity–John, Roger and Michael forcing smiles for the camera.