It's summer and we are supposed to be having fun. Let's begin…

The video elves at Bridge City are busy compiling footage of our newest tool which by no coincidence is pictured below.

Can you guess what it is?

Here is a free clue; the mystery tool will sell for $59 (the equivalent of 12 snow cones at the county fair, one bucket of movie popcorn or one bag of dog food for Louie) and we are almost certain you will want one. Or two. How do I know? I'll tell you later.

Yet another free clue; the image below contains all the information needed to complete your detective work. There are also a couple of dead-end visual clues. Time to awaken your inner Agatha Christie.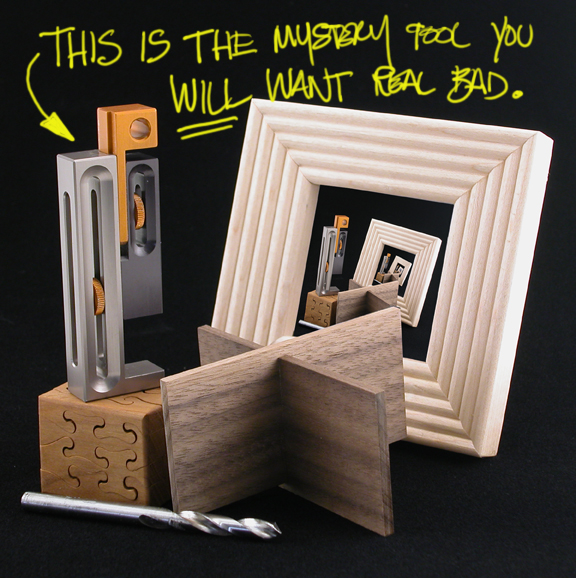 In my excitement for the discovery of this little device, I demonstrated it at at the Marc Adams School of Woodworking several weeks back. You people know who you are and remember, you are sworn to silence so zip it, lock it, and put it in your pocket! This means you too Zane.

Also, one of the editors at Popular Woodworking (name rhymes with Chris Schwarz) has seen this in action. Oops–was that a clue? Oh, he wants one too! Just ask him!

Now, I am no stranger to tool hooplah so you just need to believe me when I say that those that have seen this work want it! Want it bad. Have we had people offer us their first born for this? Sure, but that ain't right–it's wrong and needs to stop.

Since you haven't seen it yet, your uncontrolled desire for this new tool is suppressed–this will pass.

In the meantime, post your guesses and I will respond with one of five words; cold, colder, warm, hot or Bingo! I will try my best to tell the truth too. Sorta.

In the spirit of fair play, I will help you with 10 more free clues. No need to send money now.

1. This device has nothing to do with animal husbandry, parachutes or rock climbing.

2. This device will not increase gas mileage, monitor tire pressure or help you find your car keys. (Got myself on a little roll there with all those automotive clues…)

3. A zeppelin repairman might use this device.  It's a stretch but if I was a zeppelin repairman I would want this tool. Really.

4. We haven't figured out how to open a beer with this–yet. BREAKING NEWS! We can open a beer with this new gizmo. Attention Marketing Department: Revise sales forecast upwards!

5. This device could be used as an impromptu garlic press.

6. It has a name.

7. We invented it.

8. You will want one.

9. You will want one real bad.

10. We won't stop you if you want two.

–John