It is not easy inventing a tool that every woodworker in the world will want–but we have done it again (the others you don't know about yet). Which prompts me to ask this question; Does anybody know of a bauxite mine for sale? We are interested–particularly if the owner is setup to take the Discover card. We are, after 25 years, finally thinking big here–real big.

Our new mystery tool, the tool that you WILL want REAL BAD is pretty cool. Here's the story.

If I sound a bit amped it's because I have started making things out of wood (after a 25 year exile) thanks to the JMP (Jointmaker Pro for the acronym impaired).  I am also off my meds. Just discovered coffee too.

So one day I am making parts on my Jointmaker Pro and the joints were so small I had a hard time measuring (and seeing) to get light-tight results. And then an idea pooped into my head.

NOTE: There are no typos in the above paragraph.

What if there was a tool that instead of measuring all you needed to do was gauge? So we built a prototype and all I can say is you will want one, maybe two, and this want will hurt real bad until the little Bridge City box shows up on your doorstep.  Here's why…

If you have a table saw, router table, radial arm saw, chop saw, band saw, JMP, or any other tool that makes a kerf 1/2″ or less, this device will blow your mind. Please don't try to send us any money–they are not for sale yet!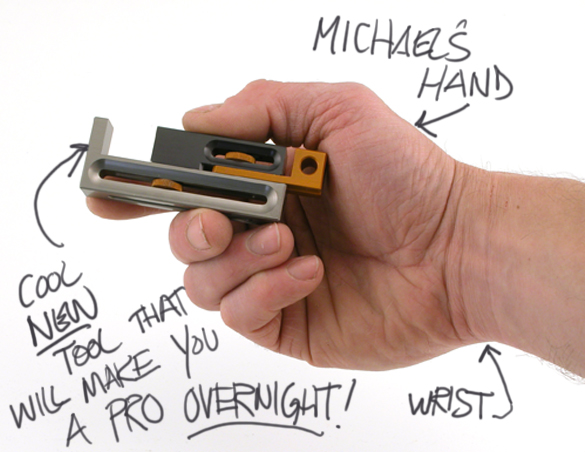 Is this cool or WHAT?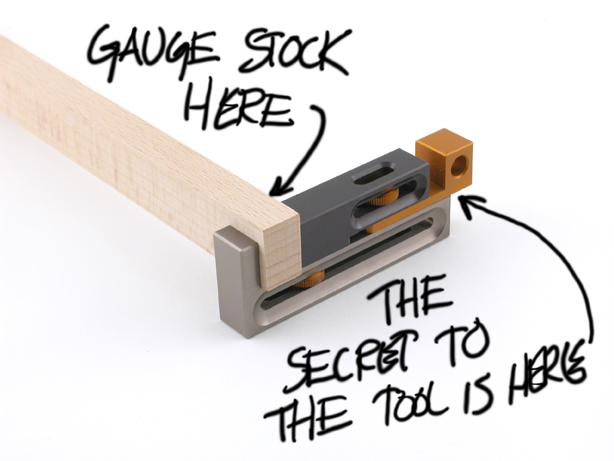 REAL LIFE EXAMPLE #1:  You are making drawers with veneered ply bottoms. Plywood is like snowflakes–no two sheets are the same thickness. So you cut your bottoms and it is time to cut the grooves in the four drawer pieces.  Depending on your drawer, you will likely use a router, router table, table saw or–our HP-6 hand plane. Either case, our new secret weapon will work wonders. Here's how.

All you need to do is gauge the thickness (you DO NOT MEASURE SQUAT) of the plywood with the tool (it's so easy even YOU could do it), tighten the knob and this creates an offset at one end of the tool that represents the outer boundaries of your kerf within one or two thousandths of an inch of your ply thickness!  The tool then lays on it's side and acts as a flip stop against a reference. The days of widening a kerf by test cuts is OVER. As in F-O-R-E-V-E-R.

We will demonstrate this via video in the coming days. If your drawer sides are cross-grain grooved at the rear to accept the tenons of a rebate cut on each end of the drawer back, it doesn't matter what the thickness of the tenon–you gauge and cut–no measuring and I GUARANTEE YOU CANNOT SCREW THIS UP!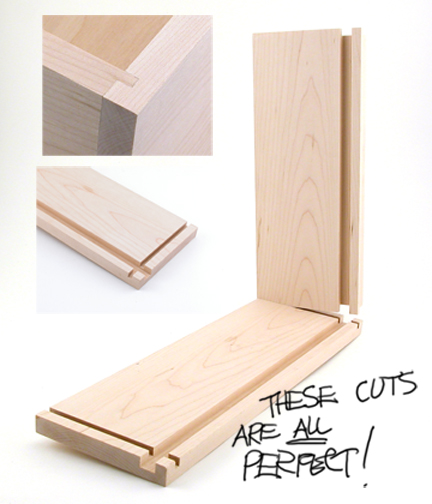 This is no pre-game seven Stanley Cup boast made by an overpaid, loudmouth athelete–this is a REAL LIFE boast made by an underpaid loudmouth toolmaker–furthermore book it–I guarantee a gallery quality cut. Did I mention you cannot screw this up–ever?
Is this cool or what?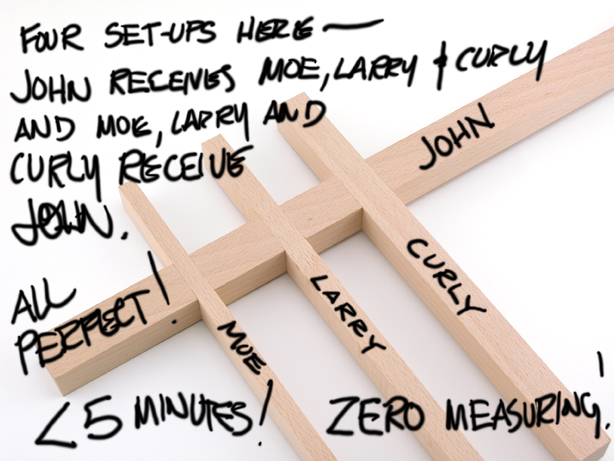 REAL LIFE EXAMPLE #2: Many think I am nuts, and they are getting warmer. That said, I am actually making a gallery piece out of  coffee stirrers that I rescue. OK, I steal them–and I ask first even though I am a charm school flunky.  This material is approx. .050″ thick and the joint possibilities are limited–primarily cross and half laps. Not easy. Oops, it is now. Film to follow.

There are other examples but the video will spare you from me. Coming soon. –John