Last year we introduced the Kerfmaker and if you don't have one by now… maybe you can win this little contest and get one for (drum roll please) FREE!

But first you have to wade through the latest post on this totally awesome and worthless blog and then enter the contest below.

Let's recap; the Kerfmaker will allow you to to make P-E-R-F-E-C-T bridle joints, cross laps and other tight fitting joints without measuring SQUAT!  How tight you ask? Tighter than a tube top on Dolly Parton–tight enough?

We will soon be introducing the Tenonmaker, which will allow you to make P-E-R-F-E-C-T tenons without measuring SQUAT! How tight you ask? Tighter than a prairie dog's butt in a Nebraska dust bowl–tight enough? (Aren't you glad I bypassed the obvious sophomoric analogies…?)

Because you are likely a guy (wild guess on my part) we are forced to make a movie of the Tenonmaker so that you understand it–every guy knows manuals don't work. And once you understand the Tenonmaker YOU WILL succumb to an overwhelming urge to send us $89 for your own personal version. Don't believe me? Check out this testimonial;

John-I have had a run of bad luck lately that led to a pretty wild night a few weeks back. My boss at the pitchfork factory rejected my idea of a one tine pitchfork, said it was already invented and it is called a javelin.  So I came home and swallowed three bottles of sleeping pills, stabbed myself in the neck with an oyster fork, jacked my car up, crawled underneath and kicked the jack handle. I really wanted to leave this earth but the pills turned out to be flea medicine for my dogs, the oyster fork hurt like hell (FYI), and that damn jack never worked anyway.  My wife said if I tried all of this on the same day again, she would turn off the heater on my salt water aquarium. I think she is my problem–she just doesn't get mouth breeders.


I ended up in therapy where it was suggested that I buy a Kerfmaker from Bridge City Tool Works. Hell, for $72 bucks I gave it a try.

I want you to know that this amazing tool ,which allows me to do P-E-R-F-E-C-T joints has turned my life around. Thank YOU!

As a token gesture of gratitude, I have included a stack of Bearer Bonds totaling $2.4 million dollars. Do with this as you see fit–you deserve it.


–Cooter Ditchman

PS: I think any woodworker who does not own a Kerfmaker is dumber than a bag of hammers.


Well now, that is quite the story yes/no?

The movie will soon be done (the TM-1 movie that is). Meanwhile the pic below showcases the KM-1 (on the left) and the soon to be TM-1 (if you guessed "on the right" you are really smart) side-by-side.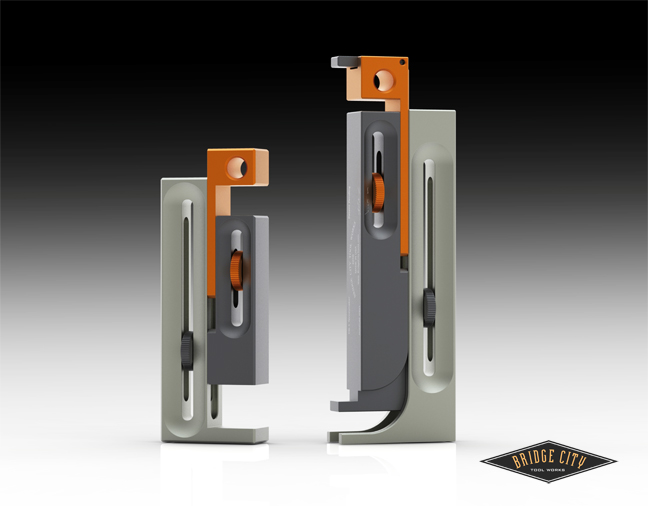 Study this picture carefully because it can be your ticket to free tools (thanks to Cooter, I am now set for life and giving stuff away doesn't bug me like it used to…).

How you ask?

Don't you think this picture needs a caption, one that can be shared in a family-centric blog such as this one?

Not convinced? Top three captions will win something.

This is a "No Limit" caption contest. Tell your friends NOW.  Proudly hold your clarion aloft and tell the world! Do join in on the fun because I guarantee this will be fun.

What are you waiting for?

–John