Drivel Starved Nation,
As always, you are the first to learn what is happening behind the scenes here at BCTW via this Totally Awesome and Worthless Blog!
I have great news to share regarding our Chopstick Master. Version 2 of the CSM is going to be announced real soon and the details are below. But first, a pic;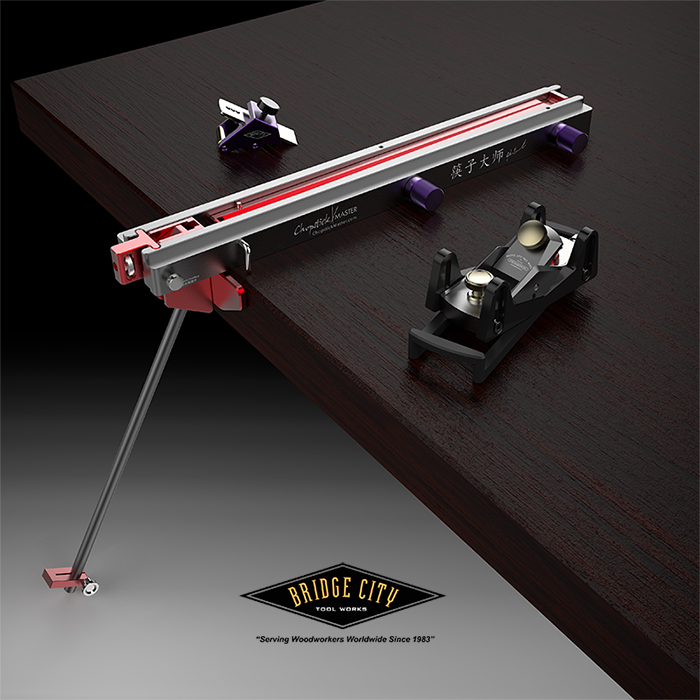 Version 2 differs significantly from version 1 — we eliminated the sliding table and saw blade which dramatically reduces the cost.  As most of you now know, the diamond finial was made by sawing the four facets.
A new invention—the pivoting depth sled— allows the facets of the diamond to be made with the included HP-8A Mini Block Plane. The shearing cut creates better facets, as in perfect, and the whole process is much easier, and much more friendly for kids.  Here it is in action;

Here is all that is included in the Chopstick Master version 2 kit;
Professional Chopstick Master Aluminum Body
Red Arm with reverse grain pin for making chopsticks with a 5 mm tip diameter
Removable (tool-less) Bench Hook with Leg and adjustable Stop for cutting the finial
2 Adjustable Acetyl (Delrin®) Depth Skids for the HP-8A
1 Injection Molded Pivoting Depth Sled (attaches to either of the Depth Skids
1 8000 grit honing abrasive strip (attached to bottom of the Chopstick Master Body)
2 red acrylic clamping wedges for holding the chopstick blanks in the Chopstick Master body
1 15ml bottle of Food Grade Chopstick Oil (same as Food Grade Mineral Oil)
1 Chopstick Master branded pencil
1 small sheet of fine sandpaper
10 Pair of Chopstick Blanks in the following 6 wood species with number of blanks indicated;
Instruction manual
Beautiful, heavy duty storage/presentation box
Before I tell you what the deal is, I am sharing that we have sold thousands of the HP-8 mini-block plane with dual depth skids for $249. It is one of our most popular planes.
We believe that version 2 of the Chopstick Master is one of the best gift ideas we have ever produced, and we hope you agree because at $195, this is the best deal in our history. (Sorry, no Founder's Circle discount on top of this special offer).
If you agree that we have really made your holiday gift giving an easy decision you will like this; if you order 2 CSMs, the price is $185 each. Three or more you ask? $175 each.
A complete list of the available accessories will be announced if you are on our email list.  All CSMs from our pre-order window will be shipped in September.  We will open up the pre-order window this week.
Lastly, I am pleased to shared that Marc Adams will be offering the CSM to all of his students at the Marc Adams School of Woodworking as a fund raiser in 2017 and all proceeds will go to the Roger Cliffe Memorial Fund, a scholarship fund for those in need to help their woodworking skill building. How cool is that?
So there ya go, all that cool stuff for under $200.
-John