Drivel Starved Nation!
After spending three weeks in China, my jet lag back here in Oregon is something else. I must be getting really old…
The day before I departed back to the States, my Chinese business associate Jack and his daughter Jessica accompanied me to Beijing for a special dinner.
It's not a big secret that I am an Iowa son, born and raised until my graduation from Iowa State when I headed off to my teaching job in Oregon. Wow, that was 45 years ago! Ouch.
While living in Ames, I would occasionally get my hair cut–about once every three years. (I liked being a hippie where I learned that you could accomplish so much more in a day if you skipped bathing.) The place I frequented was called the Head Shop and it was owned by Al Thompson who was my barber. We have remained friends all these years and whenever he FaceTimes me he tells me my hair looks like it was cut with a Weed Eater…
Some things never change.
Al learned how to cut hair from a famed LA hair stylist and his Head Shop quickly became the most popular barber joint in central Iowa. Then he got a crazy idea…
In 1971, when hot pants and mini skirts were at their peak (did I just write that?), Al decided it was a good idea to shave ISU coeds legs for a buck. What do you think happened?
Back then, if a story was picked up on the AP wire, it went viral and yes it did! He has clippings of his exploits from around the world. The 1971 NPR radio story is now enshrined in their archives.
It wasn't long before Al would make a monthly trip to Des Moines to cut the hair of the Governor. And now, whenever I go to Tennessee, or Al comes to Oregon, my haircuts are free. After each hair cut he proclaims, "Now, you no longer look like an idiot!" How cool is that?
So, what does this have to do with Charlie Manson? Al's teacher in LA was Jay Sebring who was one of the seven people murdered by the Manson clan. But the crazy part is just beginning…
That Iowa Governor? Mr. Terry Branstad. Turns out he is the longest serving Governor in US history with 22 years of public service. He too stays in touch with Al from his new residence as the Ambassador to China in Beijing. See where this is headed?.
We were supposed to meet for dinner on Nov. 3rd, but got bumped by none other than Bill Gates. However, on Nov. 2rd, Jack, Jessica and your favorite tool Potentate took a cab over to the Ambassador's residence where we were greeted at the gate by 4 or 5 Chinese army dudes. They asked, "What do you want?"
"We are here for dinner with the Branstads" I said.
"Who are you?"
"John" I replied.
About 5 minutes passed and the gate opened. It is about a 50 meter walk to the entry and awaiting us was Mr. Branstad's wife Chris. We were there for almost 4 hours and had a great time (not once did politics get discussed). Here was our menu;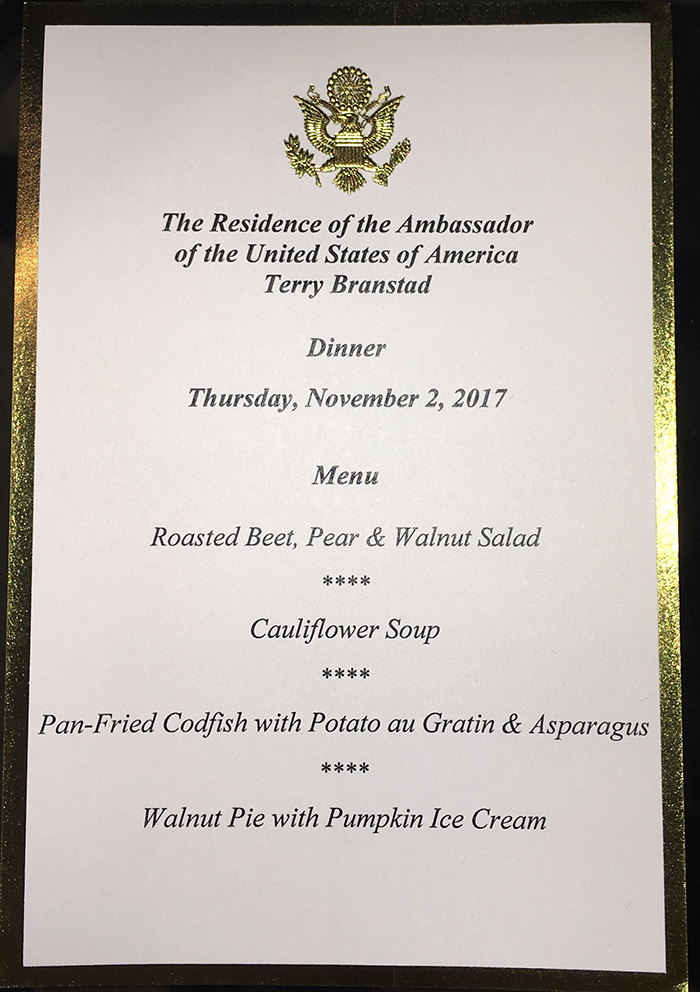 For a Chinese business man and his daughter, this was an amazing life experience. I probably won't be invited back (it's a trend I have noticed over the years…) but really had a great time. Mrs. Branstad actually made the ice cream on the menu. How cool is that?
Our perfunctory parting pic is below;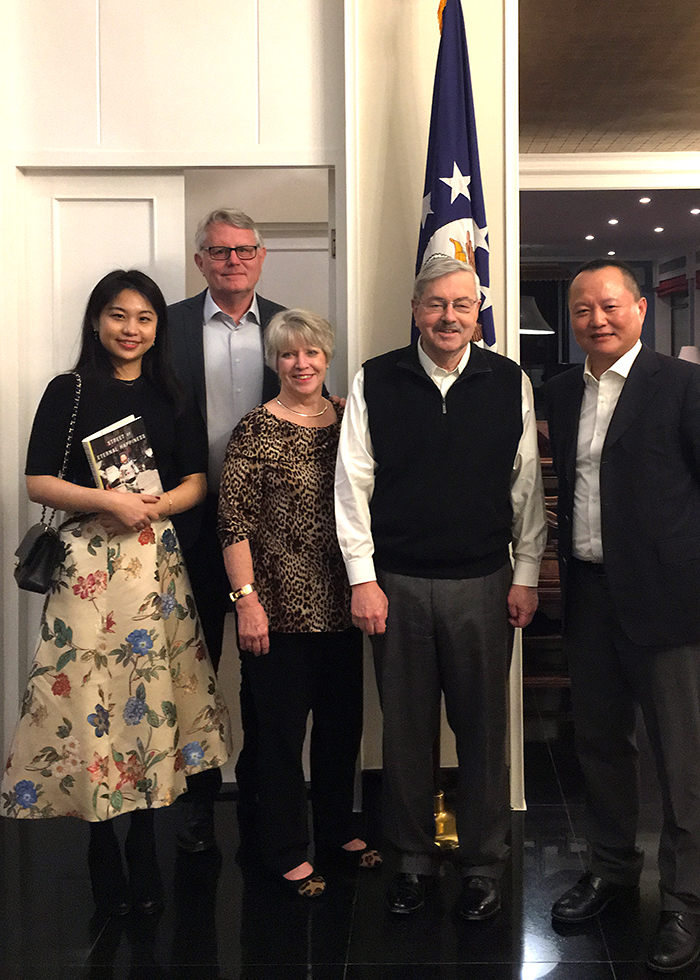 BUT WAIT–THERE IS MORE! I have even more crazy friends! Michael Hosaluk, one of the most famous woodturners in the world claims that he used to play hockey like me. No, not as bad as me, but hockey…. you get it. This dude won the Canadian equivalent of the the MacArthur Genius Award which means he got free money!
So I begged Michael to make me something special that I could give Mr. Yang the Hong Mu Master, Jack and the Branstads as a gift. He said sure, then in order to bring the price down (even though he got all this free money, he has to charge me because he is flippin' famous, which is always expensive) I ordered ten sets of these;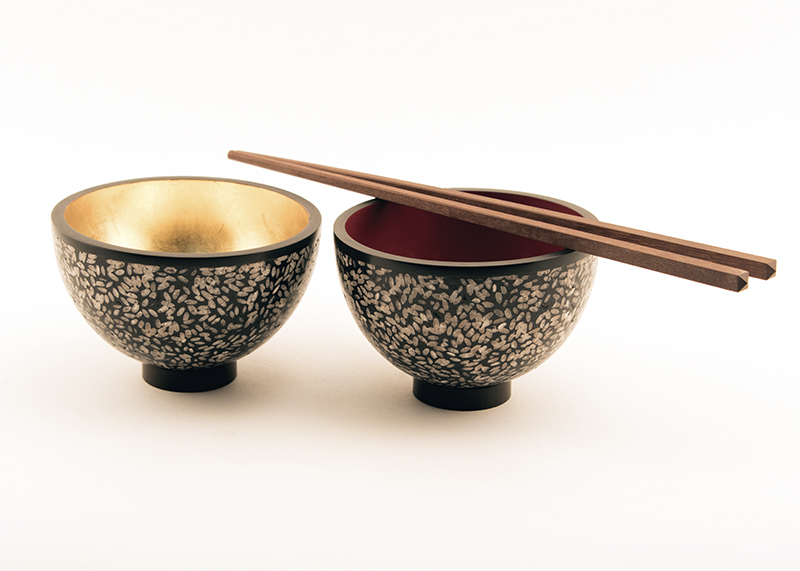 They are ceremonial rice bowls, one with red lacquer, the other with gold leaf. And yes, that is actual rice you see. How cool! We will offer 5 of these limited edition sets in our upcoming holiday email.
The next day I walked over to the American Embassy because I have never been to an American Embassy before and was given a private tour by a docent. Not once did I spot a spy.
And that brings my latest China adventure to a close. It was a great trip… Until I received this email from Chris Branstad;
"John, are those rice bowls dishwasher safe?"
I knew it was a joke so now I have yet another crazy friend!
-John