Drivel Starved Nation;
It's another Sunday in the shop for me–I like days like this because of the lack of phone calls and emails. Ten minutes ago, I just boxed up the last of the HP-14 Scraper Planes and there are two different sole treatments in this run. Here's a pic;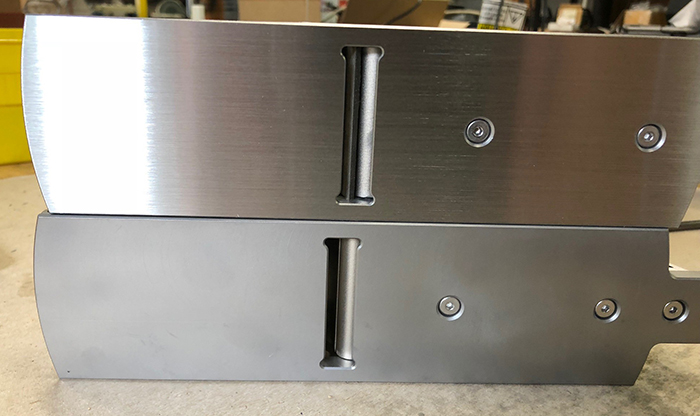 These soles were milled from 416 stainless steel and all of them were glass bead blast with a fine glass bead medium. This matte finish is beautiful. After the planes are assembled and cleaned, the very last step is to check each sole for flatness. I use a 0.002″ feeler gage with the plane resting on a granite surface plate. Each plane is checked in four places, the nose, the heel, and the middle of the plane sole on both sides. If the plane "grabs" the feeler gage in all four places, it is boxed.
If the gage easily slips in and out in any of the four checkpoints, the sole is hand flattened and checked again. This results in the finish you see on the top plane. So now you know.
Because this is a scraper plane, I recommend you wax the sole (I wax the soles of all of my planes). Also, upon arrival read thy manual please, you need to put a hook on the iron. Lastly, scraper plane irons can get damn hot! If you remove the iron immediately after a session, be careful! How do I know this?
The only pre-orders I have yet to fill are the countersinks, the Universal Gauges and Pencil Precision. Once the countersinks are done, they just need to be packaged and shipped, there is nothing to do on my end. All of the parts for the Universal Gages are in the shop, and I will begin assembly of these tomorrow (Monday). Once assembled they go to our laser house for etching.
The reason I mention this is I have a non-health related family matter that requires my presence in Dallas, TX for up to six weeks. This just came up, and it may delay the Universal Gage deliveries and it will move Pencil Precision to Q1 of 2019. I will still attend the Bridge City Tool Works Grand Opening in Montclair, CA on October 20th. I thank you in advance for your understanding. I will be available via email, and will continue to update this Totally Awesome and Worthless Blog.
Here is the latest info on all of my pre-order obligations;
1) KM-2 Kerfmakers have all shipped.
2) Scratch Awls pre-orders have all shipped.
3) The HP-10 Cove/Core Kits have all shipped.
4) The HP-6 mixed bag of pre-orders have all shipped. There are a couple of exceptions, we ran out of some of the kits and Consuelo will process refunds later this week and early next week. This shortage involve about eight people. I don't know how this happened, but the HP-6 is in the plans for new products from the new Bridge City, I just don't know when. I apologize to those who this impacted.
5) HP-14 Scraper Planes are all done, and will all be shipped by Tuesday 9/23.

6) The countersinks are still at the CNC grinders but I have reason to believe they will be done either this week or next. I am still waiting from the supplier for updated information. My absence will not delay shipping once we receive them. Consuelo and Ashley will box and ship.
7) The Universal Tools IF I get them all assembled this week, and off to our laser house, there will be no delay because of my absence, Consuelo and Ashley can ship. Fingers crossed on this one for no delay.
8) As mentioned several times earlier, Pencil Precision was scheduled for 4th quarter 2018. I am now moving this to Q1 2019.

Lastly, if anything changes regarding the schedule, you will learn it here first!
-John