Drivel Starved Nation-
Before I begin a rage filled diatribe, I must first share a Grandpa report…
Last week, 4-year old grandson "Speedy" (aka William) and family came over for dinner. Behind the house are several kiddie gardening tools including a little kiddie hoe, and the popular bird feeders.
"Grandpa, I think the birds are hungry."
"Do you want to help me fill the bird feeders Speedy?"
"No" he says. "I need to pound dirt with this hoe, but I will watch you do it."
I don't know why I think this is so cool. But it is a reminder that we all need to live in the moment — if possible. And possible is always doable, especially pounding dirt.
THE END
______________________________________________________________________________________________________________________________________________________________________________________________________________________________________
DIATRIBE TIME…
There are few subjects in woodworking that are more polarizing than the use of a honing guide.
There are those that think they are completely unnecessary. There are those that like them (like me). And there are those that shill them (like me).
According to my math, I win 2 out of 3. In other words, if you like them, I like you… or you are like me… or I am like you… you get the idea. But I digress…
If I am not mistaken, there are only two woodworkers who are both business owners in our community and degree holding educators. Marc Adams, and yours truly. Actually it is Dr. Marc Adams to be specific. My degree is a B.S. degree which some will agree, suits me just fine, especially the BS part. I bring this up for the purpose of sharing THE…ONE…THING I remember from my teacher training;
"Teachers should open minds, not close them."
I get a little more than agitated when those with an influential voice speak in absolutes. That is not teaching, that is brain-washing. And it pisses me off.
Chisels and plane irons need a surgical edge for optimal performance — and for safety reasons. If you have the ability to do this without a honing guide, I salute you.
When I first started out in woodworking, I found it hard to believe that the difference in attack angles between a low angle block plane and a regular block plane was the difference between 42 degrees and 47 degrees.
Five measly degrees.
I remember thinking about this during one of my insomnia sessions. I realized that a measly 5 degrees is a 10 degree slope. A 10 degree slope is several degrees more than the federal regulations for the maximum slope of interstate highways (6-7% = 3-3.5 degrees). And, as a bicyclist, a 10 degree slope is what we call a "grinder". So, degrees in little numbers do matter.
Don't you find it interesting what I learned when I should have been sleeping?
I like to play around with the edge geometry of my plane irons. In order to do this and eliminate inaccuracy, I prefer to use a honing guide. I am also anal about how my edges look — I LIKE the look of a factory edge. But that is just me. If you disagree, that is just you. Neither one of us is wrong — nor right.
You go ahead and do whatever it is that makes woodworking enjoyable for you.
If you are still reading this Totally Awesome and Worthless blog when you should be in your shop making something, or sharpening something, I am sharing that I recently completed the redesign of the original HG-1 Honing Guide, hence the new HG-4 moniker. Here are the changes;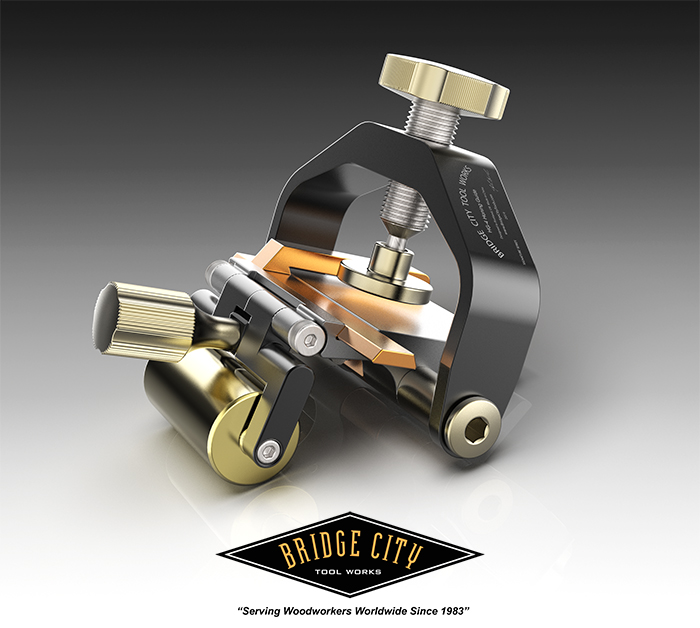 In this new version, the unit has been widened to accept irons up to 70mm (2.75″) in width. That just about covers everything available today.
I also added hard stops to the lead screw so it is no longer possible to crash the brass roller into the lead screw. The axle is now anodized aluminum which will not react with wet brass. I moved the clamping bridge forward to more readily accept spokeshave irons. And I eliminated the rubber pad which was a pain for really narrow chisels. Cosmetically, I changed the knob designs to what I call "nicked knurl" to be consistent with similar type knobs on our other new tools.
In the image below, you can see the changes I made to the setup guide;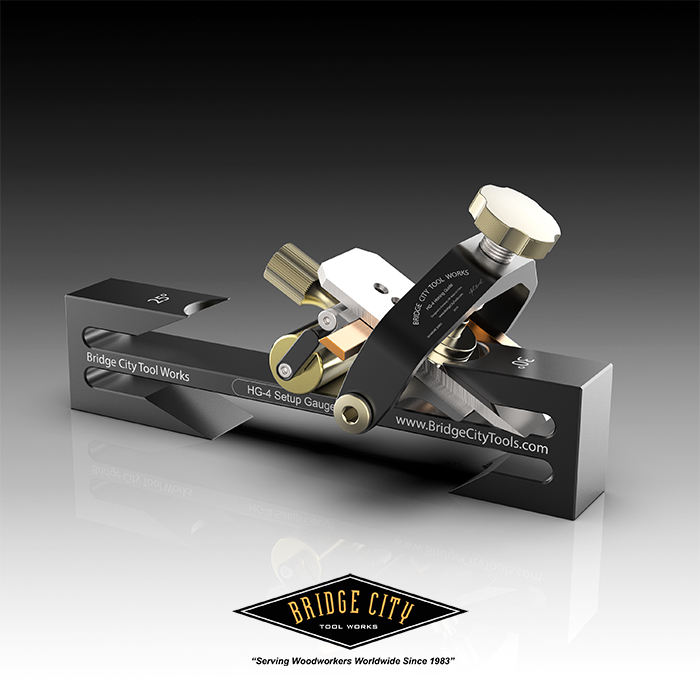 Three of the fixed references have cutouts to eliminate interference with the clamping pad.
The real advantage of this honing guide is the ability to adjust the angle on the fly with the rear knob. It is fast, precise, and it suits me just fine. And if it suits you just fine, they will be available later this year.
Lastly, I would never unleash a new tool into the world without some feedback from a trustworthy source. So, I had the following conversation with dog tormentor "Mr. Squirrel" on Saturday afternoon;
"Mr. Squirrel, I value your opinion and have something to discuss with you — do you have a minute before Jitter dog, and Bella dog, find out you are here?"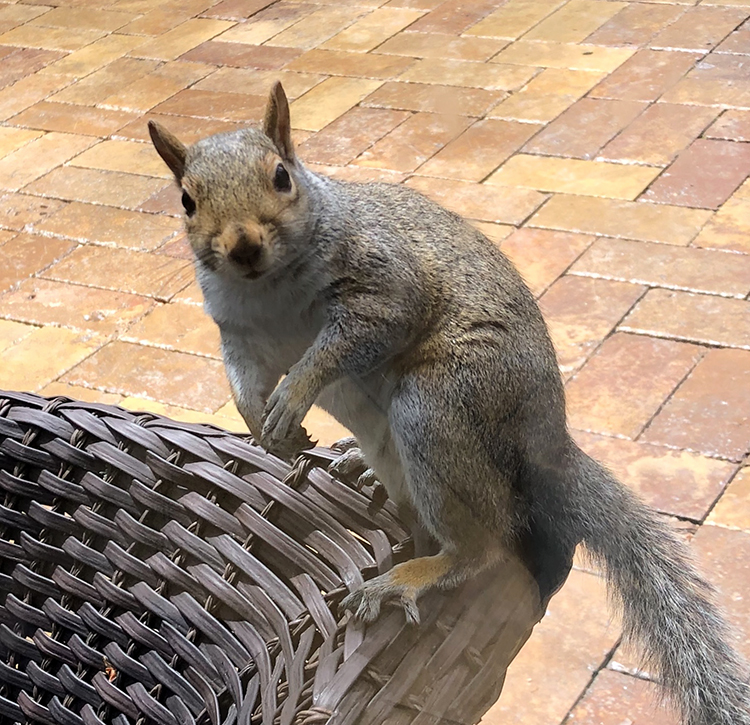 "Mr. Squirrel, as someone who values sharpness, both in claws and teeth, what do you think about honing guides?"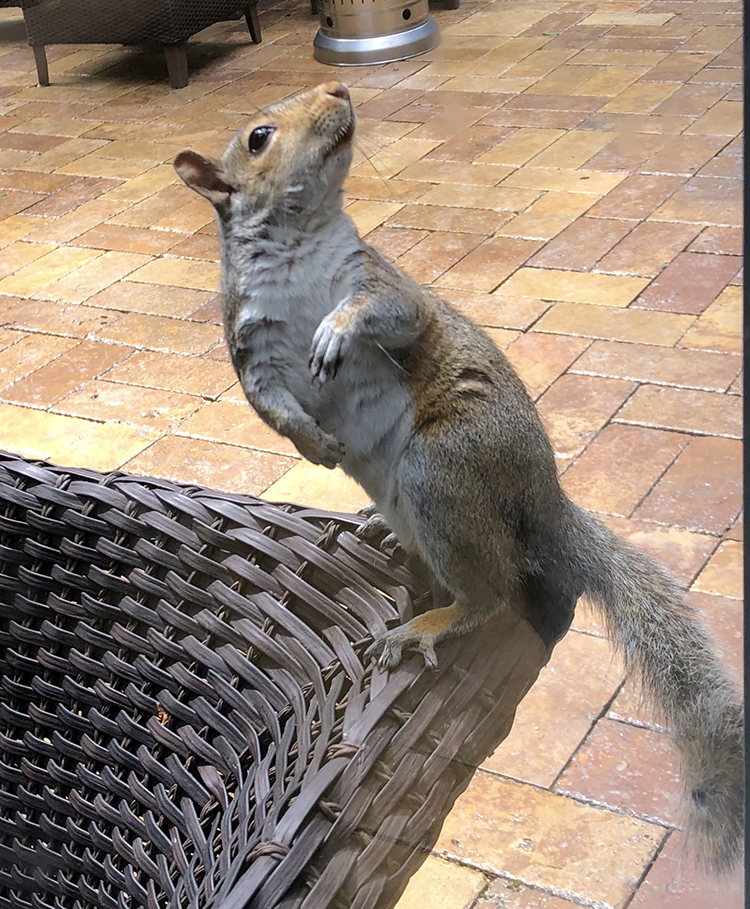 There. The debate is settled.
-Still Your Tool Potentate