Drivel Starved Nation-
Here's the latest news regarding your favorite Tool Potentate…
JOHN OUT OF THE OFFICE DEPT.
This Thursday I depart for China, first stop is Guangzhou. A week later, I will meet up with the BCTW field trip participants in Shanghai for a couple of days of food and tourist attractions–this should be really fun. We then will all board the bullet train (over 300 km/hr and smoother than flying!) for Nanjing. More great food and a visit to the museum of China's greatest living woodworker. This will be an incredible experience, and I will be sure to take lots of pics and videos for you.
On November 3, I will be taking the bullet train to Beijing and that evening we are meeting the American ambassador to China (Mr. Terry Brandstad) and his wife, Chris, for dinner and chopstick-making! (Did you know that they extrude the bodies of the bullet train out of aluminium? It's the largest extrusion in the history of the planet!)
NEW PRODUCT DEPT.
This week we will open the pre-order window for Pencil Precision™. I think you will thoroughly enjoy making pencils–I'm an old guy and not easily amused (except at my own mistakes) and this thing is just a blast to use.
Many of you own an HP6v2 plane so we are offering two kits, one without the plane and the other with an HP-6v2. This is a globally sourced project with components made in the USA, China, Germany, to name a few. Without question, this is the best value tool making kit we have ever produced – Here's a pic of the kit without the HP-6v2…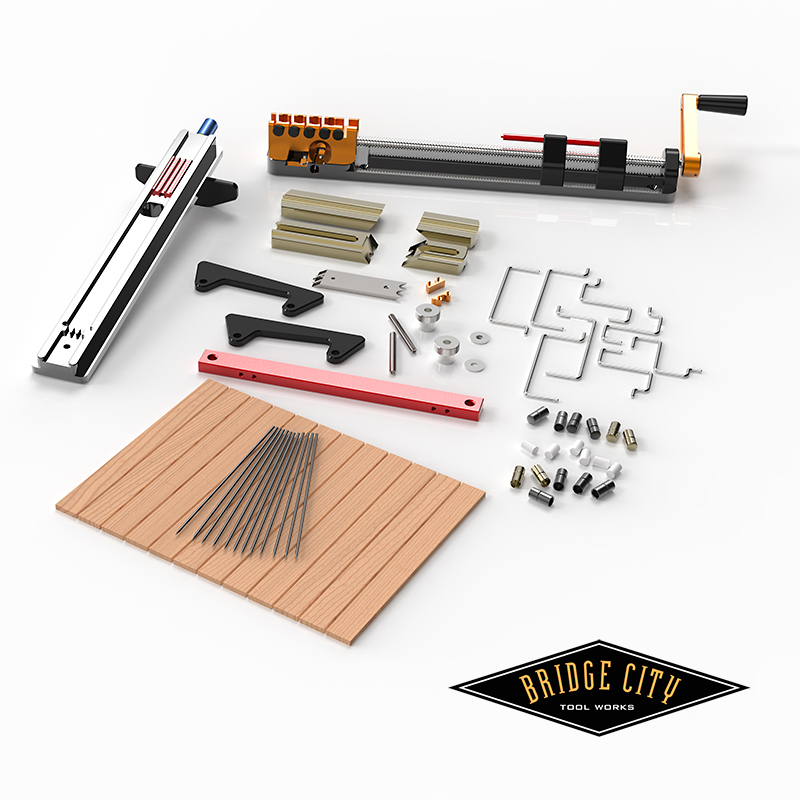 This kit includes two sole kits for the HP-6, the planing fixture, the extrusion fixture, and enough blanks and ferrules to make 12 pencils. It will allow you to make round pencils. The extrusion die kits for beaded and hex pencils will be sold ala carte and are $89 per set. This way you can buy just what you want. This kit is under $450!
The kit with the plane is only about $100 more.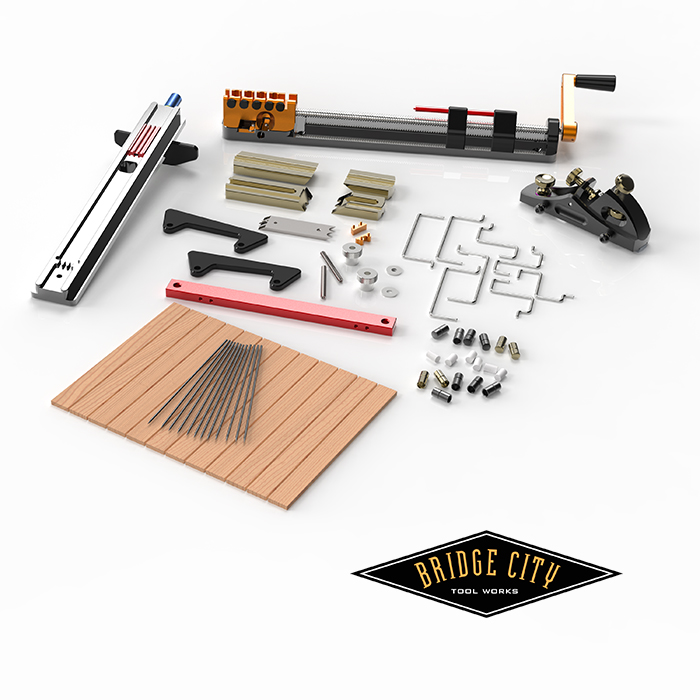 Yes, the orange crank is removeable to reveal a 1/4″ hex… do the math on that one you power freaks!
In both kits you will receive a sample of six ferrules with erasers and six without. This will allow you to explore both pencil making options. The ferrules come in eight colors and you will understand why when you make your first pencil with child or grandchild assistant. Watching the look on their faces when it is their turn to pick which color is priceless.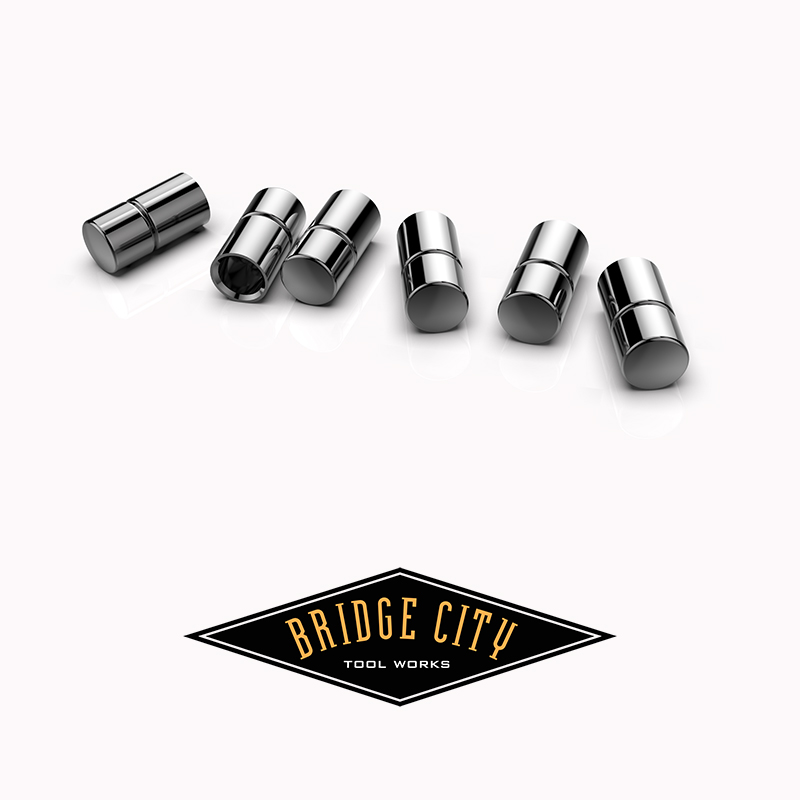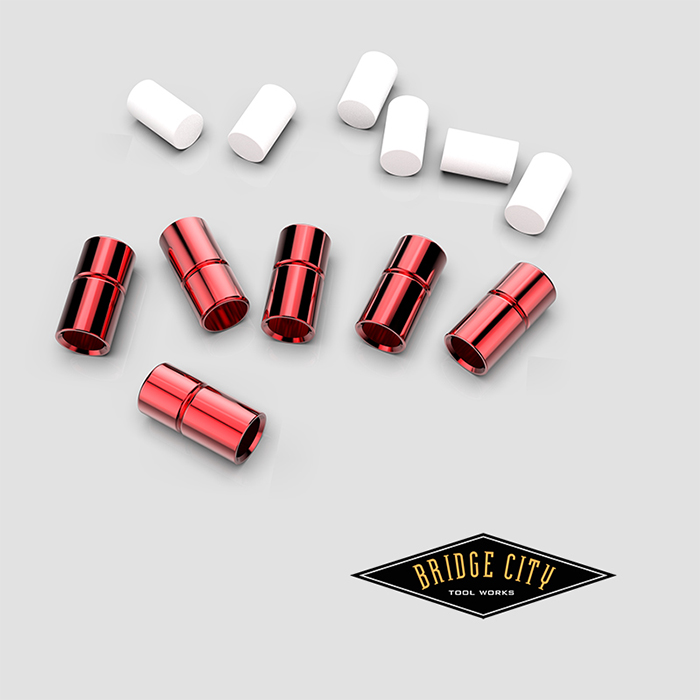 We will announce the spectrum of colored pencil options at a later date as we are in negotiations with potential suppliers. The kit comes with 12 2H leads and we will offer black lead options in the following hardness: 4H, 2H, H, HB, B, 2B and 4B and Red and Blue. We recommend H and HB for little kids.
AND, all pencil component options, whether it is 12 leads, 6 plain ferrules, 6 ferrule/erasers or 12 cedar blanks are all under $9.00. The material costs for making beautiful custom pencils will be right around $2.50 each. Combine that with the fun of involving your entire family is simply unbeatable.
When I return from China we will begin filming the HOW-TO video tutorial but to wet your whistle, here is a short video peak at one of our prototypes in the skunk lab. I removed the crank and I am using a Dewalt power screwdriver (I love this tool) with an almost dead battery. Each die is really a circular plane iron and serves as not only the cutting edge, but the chip breaker as well. It doesn't get any easier than this!
Pencil Precision is a complete hobby/factory in a box and this is what it isn't: a toy. This is a professionally made tool that will last generations–which is a whole lot longer than a smart phone.
Just sayin'.
-John